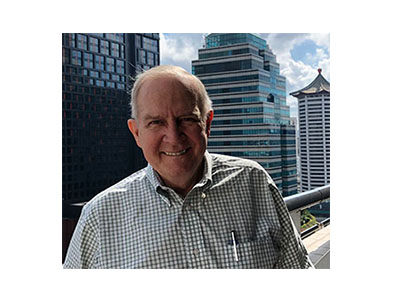 Email Jim at jthompson@ipulpmedia.com
We have solar panels on our home. I use them as a quasi-laboratory to study what is going on with solar these days. We have twelve panels, with perhaps room for just a few more. We installed the first four in 2014, the last four this past August and the middle four in 2016. I keep track of each panel's production daily. In the summer, these panels produce about 10 - 12% of our summer energy needs, a nice offset to the Georgia air conditioning load. I have them professionally cleaned each spring after the pine pollen season (if you have ever been to Georgia in the pine pollen season, you know what I mean).
During the time we have had these panels, the cost per watt of new panels has dropped from $3.69 to $2.91. Still not a great ROI, but it is constantly improving in new installations.
The modern solar cell was invented in Bell Labs in 1954. Efficiency is measured by dividing actual cell output by the theoretical sunshine available instantaneously. Over the years, efficiency has increased as follows:
| | |
| --- | --- |
| Year | % Efficient |
| 1960 | 14.0 |
| 1992 | 15.9 |
| 2012 | 17.8 |
| 2015 | 18.2 |
| 2016 | 29.8 |
| 2017 | 44.5 |
Most of these are lab results; commercially available efficiency seems to lag somewhat. If these improvements continue, it will start to make sense to replace older panels.
I know of one box plant that has a roof covered with solar panels. Not sure what percentage of their total electrical needs these panels provide.
Some of the solar efficiency and overall electrical efficiency we may see in pulp and paper mills in the future may come from surprising sources. The aerospace industry is working furiously on building electric commercial size airplanes. The challenge there is to get the kilowatt density in batteries to equal that of jet fuel.
I was involved in a theoretical calculation on electric trains. In the case of a hypothetical train of 100 car length, if all the cars had solar panels on the roof, it could almost power the train, probably could with the latest efficiency figures posted above.
If detached from the earth moving equipment can get to a solar/electrical efficiency that it is of commercial quality, our stationary pulp and paper mills can't be far behind.
In a decade, I've moved from being a skeptic to saying some alternative energy sources just may be possible for our industry right around the corner.
Solar brings its own set of safety problems. Here at our house, our local electric utility has placed a prominent notice on our electric meter letting technicians know that disabling the line from the substation is not disabling the entire system. Important to know.
Be safe and we will talk next week.
________
Other interesting stories: