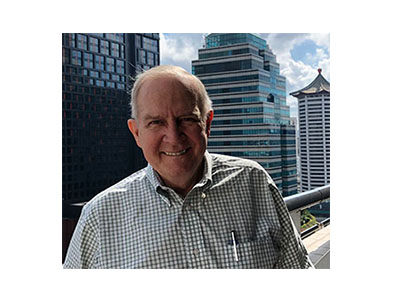 Email Jim at jim.thompson@ipulpmedia.com
Probably after August (Pulp Rats Month), Maintenance Month is my favorite month of the year on the Paperitalo editorial calendar.
My dad was notorious for avoiding maintenance. It was an expense he loathed in the same manner as many mill managers and operations executives do. I followed his example for a while, saw the fruits of such policies and became a maintenance fanatic.
A couple of old family incidents are in order.
Back in the sixties, one Friday night my dad, my brother and myself went to a livestock auction held at our local stockyards, about 15 miles from home. After the auction, we came out, got in the car and it started fine. However, we had no lights. We went back inside (no cell phones), called mother and she came and got us in my grandfather's car. We left our car for the night.
The next morning, in the daylight, we came back to get the car. Dad must have thought about it overnight, for the first thing he tried in the morning was to flip the high beam headlights on. They worked. Hence, he had been driving around with one low beam headlight for who knows how long until it failed. Dangerous. Personal note: have you checked your headlights lately?
Another time, we had two very old John Deere tractors. I was working in field with one of them during planting season. The radiator boiled over. In the summer months we just kept water in the radiators, no antifreeze. I ignored it. Brought it into the tractor shed at the end of the day, hot and boiling. After I shut it down, that tractor never started again--completely locked up. That sounds like it was my fault and to a certain degree it was, but I had been trained by the master.
We did take care of our old combine. It was a beauty--it looked like this one. I know it looks like an antique now, but we were proud of it in the sixties. It had about 90 grease fittings and it was my brother's job every morning during harvest season to find them all and give them a couple of squirts of grease. He was OCD and took his job seriously, even though he was about ten years old. We had few problems with this machine. If things aren't too far gone, grease works wonders.
I can usually tell when I walk into a paper machine hall if it is well-maintained. I don't need to look at any records. A well-maintained paper mill looks like my '64 Corvair convertible--it looks loved. You can feel it and see it.
Don't get me wrong, I believe in all the modern techniques to maintain mills--the tracking systems, the analytical tools and so forth. With such appurtenances one can persuade those who are not so enthusiastic about maintenance to do an adequate job. However, if you can find a manager who naturally loves maintenance, you can do an outstanding job that will give you more uptime and lower costs.
If I were young enough to be back in the trenches, I would choose maintenance over operations. Find yourself a maintenance team that feels the same way.
Be safe and we will talk next week.
March Maintenance Platinum Sponsor: RMR Mechanical - We perform as planned! 770-205-9646
________
Other interesting stories: