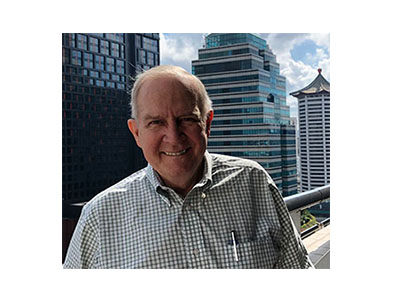 Email Jim at jim.thompson@ipulpmedia.com
If you are building statues or monuments, when the construction is done, you are done. We don't build statues and monuments in the pulp and paper industry.
About twelve or thirteen years ago, I looked down the road and realized that my wife and I were going to be getting older and more feeble should we survive a few more years. We both have always had heavy traveling schedules. Our master bedroom is on the second floor of our home. I decided that, while I was able, I should build a dumbwaiter to go between the first and second floors to handle laundry, and, more importantly, heavy suitcases.
It was done. It was a fun project. The dumbwaiter essentially consists of a cab and a counterweight, connected by a cable passing over pulleys at the top. It is operated and controlled by a garage door opener, standing on end and connected to the counterweight. The safeties from the garage door opener are in the cab to make sure nothing falls forward through the open front of the cab. The travel adjustments on the garage door system fine tune the travel of the cab.
A number of years went by and I decided to make some upgrades to the system. I wanted a new cab, lights in the cab and so forth. I am getting older now, so I enlisted my next door neighbor, an excellent hobbyist wood worker, to build a new cab and help me rebuild the entire unit. He learned that building an animate piece of furniture (the dumbwaiter cab) is entirely different than building a static chair or bed.
Same difference between the aforementioned monument and a paper machine. The paper machine must move in a rigidly prescribed manner.
Training to operate the dumbwaiter is about a five minute job. Not so with your paper machine.
I was about four months into a two year paper machine project, just a couple of years ago, when I started asking the mill personnel about operator selection and training. They thought I was way too early. I wasn't. We got the operators selected and trained just in time, and we used the operators as part of the checkout team to make sure the equipment was ready to run. They started these activities about eight or nine months before we actually started up--and this was not a whole machine, but a key ancillary system.
This is the way it goes with animated construction projects.
About a decade ago, I was working on a new mill project. I had reviewed the checkout and startup plan well ahead of time. It was a thorough plan. The person in charge of execution was competent and experienced. However, a few days before the startup date, we burned up a gearbox. No oil. Despite all the checkout and all the check sheets that showed things like assuring gearboxes were filled with oil, this one was missed.
The startup date was critical and reputations were on the line. A major machine shop was located within about eighty miles and they were put on a round-the-clock schedule to repair the gearbox. The startup date was achieved but not without extraordinary effort and expense.
In my view it is almost impossible to start operator selection, training and checkout tasks too early.
Be safe and we will talk next week.
________
Other interesting stories: