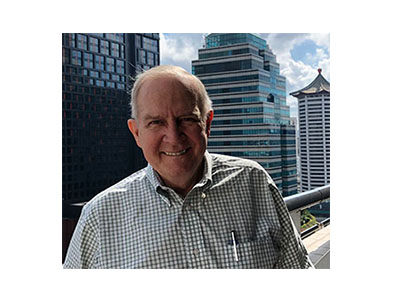 Email Jim at jim.thompson@ipulpmedia.com
When I was young, binge drinking seemed to be the personally destructive behavior of choice. In one mill where I worked, the staff was in the habit of having a beer blowout after every shutdown day. I don't know if that is still a widespread activity or not. Of course, drugs, especial fentanyl, are widespread today and kill many people. We have had this tragedy hit close to us.
Today, however, I want to talk about overeating and weight. We all, including me, struggle with this. Quite simply, despite what you might think, on a long term basis food has become very cheap and available to at least the audience that is likely to read this column. Yes, we have undernourished people, even in the community where I live (my wife is on the board of the local food co-op), but this readership here, right now, likely has access to whatever food you want.
And we eat it by the boatload. Some join weight watchers, some do other activities in an attempt to reduce or control their weight. Personally, I weigh myself in the bathroom every morning before I shower...and I track it on a spreadsheet (along with my blood pressure). I am not sure this will work for everyone, but it works for me, for I think about my chart at the beginning of every meal. I've lost about twenty-five pounds in the last year and have another 15 I would like to lose. It also helps that I send my spreadsheet to my doctor about once per month.
To counteract the large portions restaurants feed us, we usually bring half of it home for another meal in a day or two.
People talk about fat shaming. I don't think that is so much of an issue for me (I don't seek out people to ridicule). Rather, the obese, for me, just make me sad.
When structural engineers design a building for strength, they start with the roof. As they move down the building, they add the weight of all the structures above as they calculate the next tier of columns and account for swaying and wind load. We are just the same. Watch an obese person walk. They are dealing with the structural problems of a moving skyscraper.
Then think about their feet. Their feet have to dynamically carry all the load above them. This is a big job!
So much of your health condition comes from your weight. Our bodies fool us, too. Up until about age forty-five, your body can compensate for your abuse. But as I read somewhere, in your late forties, your "check engine light" is going to start to come on. By then, however, your revised actions cannot completely reverse the damage already done.
As I said, I have recently lost twenty-five pounds and I am working on another fifteen. For me, all this weight came on relatively late in life. However, I feel better and am healthier at my current age, nearly 73, than I likely was in my 60's. For you youngsters out there, keep it off to start with and you will be better off for a long time.
Be safe and we will talk next week.
________
Other interesting stories: