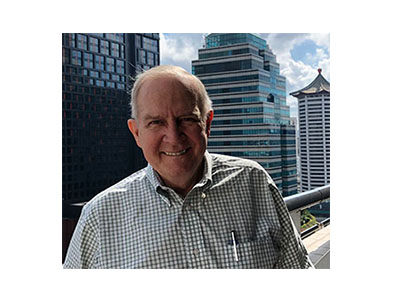 Email Jim at jim.thompson@ipulpmedia.com
I am a great believer in the signaling concept of making little changes that are noticeable and which then have an outsized impact. In the fall of 2019 (weeks of 7 - 28 Oct 2019), I wrote a series of columns here concerning housekeeping around our mill and converting properties, extending even beyond the property proper to the idea of cleaning up the entire community.
In these days of general angst and discord in our communities, I will continue to believe that such a cleanup as I described in that fall series 16 months ago would do much to improve the morale of our employees and our communities in general. I think it would have a calming effect. People who have to literally and figuratively wade through trash and debris daily to get to work, get home or just live their lives, have a dreary view of the world. Let's fix that.
Since this is transportation month, I thought I would take this idea in a slightly different direction.
When I was a young boy, we lived in a house alongside the New York Central railroad tracks in Troy, Ohio. I don't know if we lived on the right side or the wrong side of the tracks, but I didn't care. I loved the big steam locomotives, then, later, the diesels as they pulled their loads through town. We were next to the sidings, so from my house to school, I immediately came out of our door, turned right and crossed five sets of tracks.
But there was something missing in those halcyon days of my childhood interaction with trains. There was no graffiti on the cars. Boxcars, gondolas, coal cars and so forth were graffiti free. Graffiti came later with spray paint in cans. While we get exercised about all sorts of fluids in spray cans, graffiti paint has not been considered an environmental disaster. A modern windmill atop a mountain is considered an environmental visual affront, even though it might be seen only by a small part of the population. Graffiti strewn railcars are ubiquitous and we say nothing.
So, assuming we are not going to stop making these paints soon, who is responsible for the graffiti on railcars and the concomitant malaise it induces into the population?
You are.
By accepting graffiti laden railcars on your site, you are approving of a certain level of mediocrity and malaise associated with your business. Further, you are contributing to a plague on society, every time those railcars pass through any town in the country, not just when they are near or on your property.
Cleaning up the railcars will be a huge boost to the overall morale of society. However, you can't do it alone. It will take you pushing organizations like AF & PA to make this a priority. AF & PA must, in turn, align with other industry organizations and railroad associations to make this happen.
This is "litter" of the highest order. It degrades the value of our visual environment everywhere for everyone. It does not have to be this way. Let's do something about it now. Mills--you order the railcars, and thus you have the power to say what the condition of those cars are, inside and out. Make a move today.
For safety this week, we know what we see can affect our actions. Railcar graffiti can subconsciously put individuals in a frame of mind vulnerable to accidents and do other harm as well.
Be safe and we will talk next week.
________
Other interesting stories: