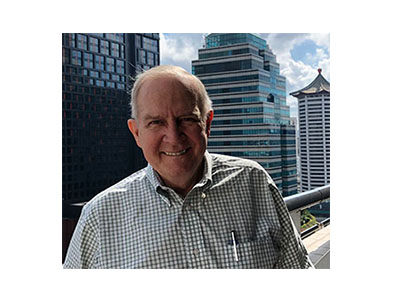 Email Jim at jim.thompson@ipulpmedia.com
By Fos, the Rat
As I discussed last week, this year we are using a different format. I am interviewing Mr. Jim in a side room at the Pulp Rat Convention.
Fos: Mr. Jim, that was certainly an interesting story you relayed last week about the mill taking credit for a project done completely outside of the intended scope. What do you have for us this week?
Mr. Jim: Last week's story relayed matters that can happen within one's company. This week, we'll move outside the walls and see what can go wrong when an outside company has an evil intent.
Fos: We can hardly wait. Do tell.
Mr. Jim: The era is the same as the previous story. In other words, pre-internet, manual drafting and almost pre-personal computer. In this era, I did purchase Apple II+ computers, but there was no software, so I wrote all the programs we used for engineering calculations in Basic, the language of the day. However, I digress.
Our little company in the Midwest was in the business of detailing structural steel for industrial and other large buildings. For instance, we detailed the main machine building for the Fine Paper Machine built at Hawesville, Kentucky in 1980 - 81. This is nearly all done by computers using CAD software these days. Back then, it was manual drawing work. One received structural steel drawings, which were essentially stick drawings, and our responsibility was to create shop drawings and erection drawings from these.
Fos: Sounds easy.
Mr. Jim: You would think so, it is mainly pictures and arithmetic. However, the speed of work required to keep up with the construction schedule is extremely rapid. And then there are changes from the architect and structural steel engineer. When the drawings were produced manually, changes were devastating and expensive.
Fos: I am sure you were covered on the changes...
Mr. Jim: Yeah, right. This particular building was a very large, five story chalet style condominium building for a ski resort in Colorado. The entire frame, including dormers and so forth, was made from structural steel. The Apple II+ with my programs to calculate angles, bolt holes and so forth came in handy. What did not come in handy was that the architect had stamped every drawing they sent us with a stamp that said, "This issue is for clarification only, this is not a change in the design." Yet when you looked at the drawing, maybe a dormer moved, or a fireplace moved, or who knows what. The stamp was a lie.
The rookie mistake I made was that I did not get a signed contract up front. The customer, the steel fabricator, said everyone was in a hurry and the contractual paperwork would catch up in a few weeks.
Fos: Was that a normal situation?
Mr. Jim: Yes, pretty much. But in this case weeks turned into months and this project kept getting more and more complex. The "non-change" orders were piling up. Our customer was releasing partial payments to us, but the contract always seemed to be elusive. I would call every week, but no contract.
Finally, the project manager said he would come over on a certain Friday and we could sit down and discuss the contract. I was glad to see him, and he was very cordial, reviewed our work and said he would be back the first of the week. And, oh, by the way, could he take a copy of the drawing list delineating our work with him?
We complied and were glad to see progress being made on the contract issue.
Fos: You must have had a good weekend, then.
Mr. Jim: Yes, and that was the last one.
Fos: Huh?
Mr. Jim: Monday morning, at about 10 am, one of our employees came into my office and told me there had been a sheriff's automobile and another car circling our building. We soon found out what this meant. In comes a deputy and my "cordial" manager from the customer. I was presented with a "Writ of Replevin."
Fos: What is a "Writ of Replevin"?
Mr. Jim: Let me tell you. These characters had been to the courthouse that morning and gotten this Writ of Replevin which required me to hand over, immediately, every drawing on the list I had provided the prior Friday. The sheriff was to hand these over to the customer immediately. Any delay or stalling on my part would result in my immediate arrest.
Fos: Wow! Lot's of "immediates" in there.
Mr. Jim: Of course, once they got these original drawings, I lost all leverage to collect any money due me (about $40,000--a very large sum in those days).
Fos: What happened?
Mr. Jim: Fortunately, I had to walk past our accountant, whose office was near mine, to get to the drawing room. I told her as I walked by her office to call our lawyer, who was only about three blocks away. Thank goodness, he was in his office and came tearing out to ours. He talked to the deputy and got the judge on the phone that had signed the Writ. He got the judge to remand the drawings to the office of the sheriff until a hearing could be held in a couple of days.
Fos: That was close. What happened next?
Mr. Jim: We had the hearing; I was able to get about half the money I was owed.
Fos: Anything else?
Mr. Jim: This happened over forty years ago, but if anyone wonders why I am sometimes cynical and suspicious, I would say this incident is the genesis.
________
Other interesting stories: