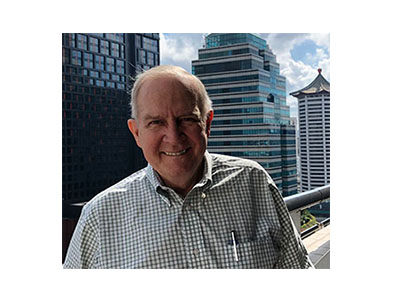 Email Jim at jim.thompson@ipulpmedia.com
Last week, we talked about the first step to better maintenance. That was cleanliness, as in wholesale cleanliness by removing dead and obsolete equipment.
To me, the next thing after cleanliness is oil and grease--lubrication.
Last week, I spoke of my early city life and living next to the railroad tracks.
This week we'll move to the farm phase of my childhood when we moved to the country. Keeping machinery running was a daily focus. Key to that focus was lubrication which took the form of oil or grease. With farm machinery it was often grease.
We had an old Allis Chalmers self-propelled combine. This thing was ancient even then (see one of the same model here: https://www.youtube.com/watch?v=6r1Cacq2Eww). If I remember correctly, it had 162 grease fittings. They were all over the place, not grouped together. On the summer mornings during wheat harvest, it was my younger brother's job to grease all these fittings every morning while we waited for the dew to burn off. He is smart, and he memorized where everyone of those were and gave them a couple of shots apiece. After about an hour, he would emerge from the bowels of that machine looking like the scarecrow in the Wizard of Oz. But we never had a bearing failure. Other things shook and fell apart, but no bearing problems.
When I was manager of a dilapidated old paper mill about twenty years later, everything was falling apart. It did not take much sleuthing to figure out the problem, it was lubrication. As we started replacing failed bearings and instituted a lubrication plan, life became much better.
Today, another forty years later, we are all more sophisticated than either of these vignettes I just described. Equipment runs at higher speeds and tolerances are much tighter. We need better systems to keep performance at a high level.
I believe so strongly in the lubrication issue, I want to specifically call out Failure Prevention Associates (www.failureprevention.com). This firm has a program called Condition Based Grease Lubrication (they have many, many other maintenance related services as well). Unlike my brother whose motivation was our father, when your motivation is budget and downtime, this program will keep you in great shape on a regular basis with knowledge of what is going on with your equipment. I suggest you contact Benny Ortega (benny.ortega@failureprevention.com) to see how Failure Prevention Associates can improve your grease lubrication program.
It is amazing how lubrication is at the center of most good maintenance programs.
Be safe and we will talk next week.
March Maintenance Platinum Sponsor: RMR Mechanical - We perform as planned! 770-205-9646
________
Other interesting stories: