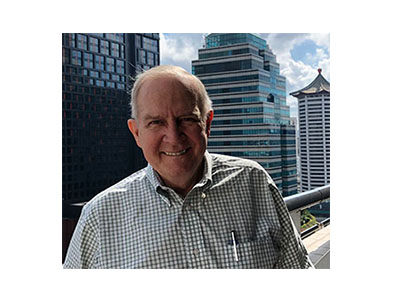 Email Jim at jim.thompson@ipulpmedia.com
In recent years, companies have started emphasizing safety off their premises as well as at work, for anything that causes an employee to be missing from work is a cost. It is just a matter of how big that cost is.
Off site, people get hurt pursuing sports, for instance. Over my lifetime, I have had at least two employees become injured in sporting activities. One was a motocross racer who wrecked and broke his collar bone. Another was an employee, who, when the opportunity arose and the parking lot at his apartment complex froze over, got out with family and friends and played "crack the whip" behind a vehicle. He hit an electric pole. He reads this column, and yes, I still remember even though that was just over thirty-eight years ago. Maybe he can be forgiven, in that part of the south where he was living at the time, ice storms, hence the opportunity to crack the whip, were infrequent.
I mentioned my grandson's dare devil activities last week.
When my wife worked for SAE (Society of Automotive Engineers) back in the 1980's they had to develop standards for cautionary admonishments for improperly using lawn mowers. One was for the person who managed to get a riding garden tractor on his roof to blow off leaves and who then proceeded to drive off the roof. The other was for the gentlemen who decided to top the hedge on their property line by picking up a rotary powered push mower and carry it down the hedge. I believe they permanently disabled themselves regarding ever typing again, a fairly essential skill these days.
A surprising cause of automobile accidents is traveling back and forth to hospitals when a relative is ill. The driver is distracted thinking about the ill relative and is not paying full attention to their driving. We had a relative total a car in this situation at one time. Fortunately, no one was hurt.
I had another relative who jacked up a car to remove a muffler. He used one of these cheap old bumper jacks cars used to have, did not add any blocking, and the car fell on him. It took him three days to die.
We forget that maintenance off the work site holds just as much potential for danger as it does at work. A socket wrench or a voltage meter does not know where it is, work or home. Same potential for misuse applies.
Safety meetings often cover home hazards, but just as often we forget the message of the safety meeting. When we get older, we do tend to slow down and be more cautious than when younger. Having wrecked about a half dozen automobiles in my lifetime, I have learned, that although I only went to the hospital once for minor scrapes, the inconvenience of car repairs is a significant cost and nuisance.
One last item. Here in certain areas of the United States, we have considerable rural populations who are of the Amish or Mennonite faith and still drive a horse and buggy. These vehicles (like bicycles) don't stand a chance against an automobile or truck. Two years ago, a friend of mine, driving his buggy, was killed when hit by a distracted driver. It was the middle of a sunny day and, if I remember correctly, the police report said, on the straight highway where this happened, visibility was over 1,000 feet. The automobile driver was looking down, trying to untangle his phone cord. There were no skid marks until after the point of impact.
Be safe and we will talk next week.
________
Other interesting stories: