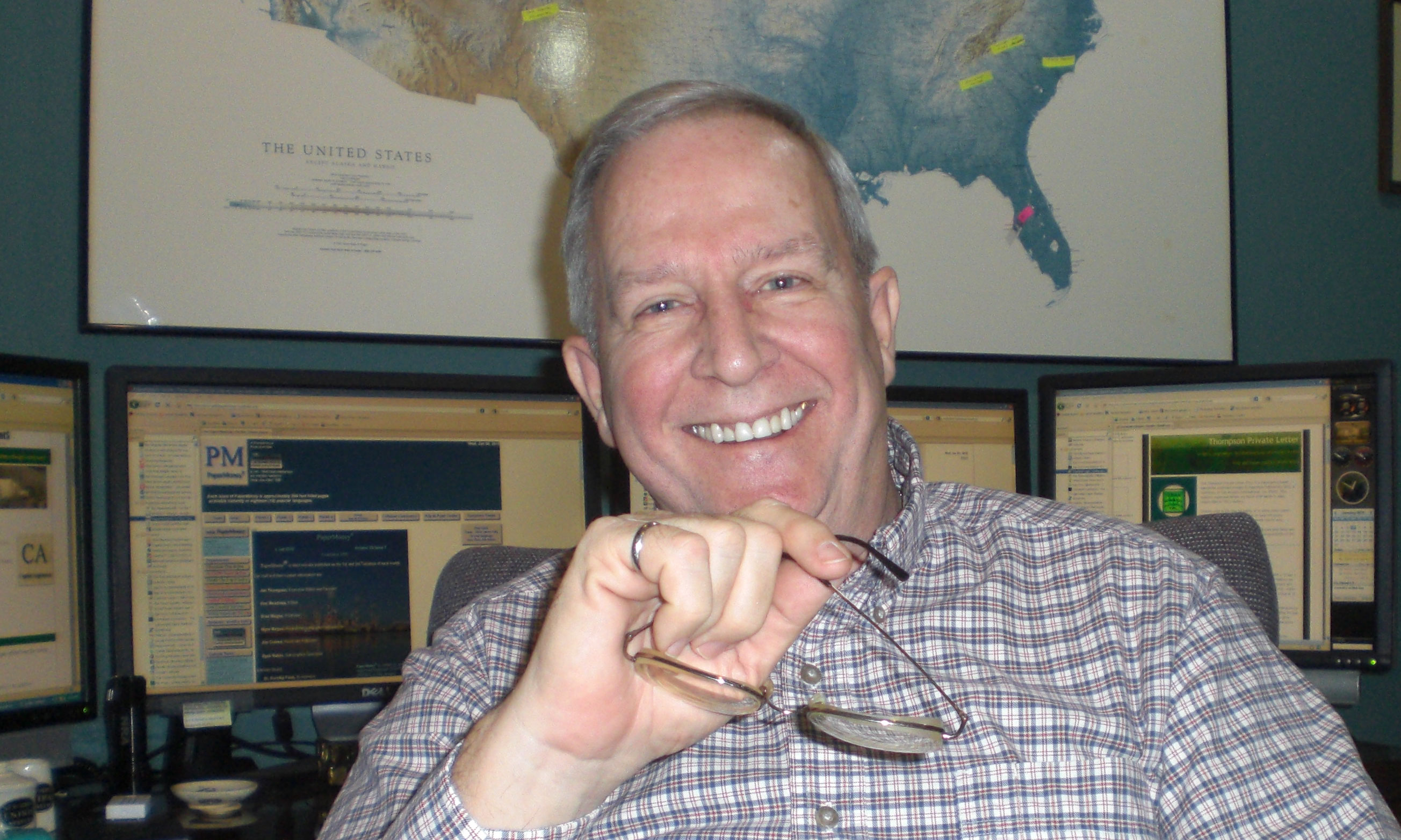 Probably not, but an interesting thesis I have for you this week. As we reported on Pulp & Paper Radio International this past Monday morning, there were two announcements of tissue and towel converting plants shutting down this past week. One was a Clearwater facility in Thomaston, Georgia. The other is Kimberly-Clark's Delyn Plant in Wales which converts paper towels.
It is somewhat rare, anywhere in the world, and especially in the western world, for tissue and towel facilities to completely shut. However, here we have two examples. Of course, we are not fully privy to the strategic reasons, but these shuts are clearly an indication of declining market conditions for the asset owners, at least in the local areas.
****
Hear the news about the pulp and paper industry worldwide here first!

Listen to Pulp & Paper Radio InternationalTM regularly.
Coming April 1st (no joke!) P & PRI's Monday show, "Nips" is expanding!

****
The last time I can remember the towel and tissue market being flooded, at least in the United States, was in the late 1970's, early 1980's. That was simply a case of overbuilding and getting out ahead of the per capita consumption, for per capita consumption in these grades are a long established metric for the developed world.
Interestingly enough, rising per capita income grows tissue consumption in developing countries. One of the first luxuries adopted in emerging economies is sanitary or hygienic paper use. Thus the title this week, predisposing announced shuts in these grades may mean the reverse.
The story is likely a bit more complex, at least in the Clearwater case. Clearwater largely sells into the private label market, and there is plenty of competition in the southeastern US. Tissue does not travel well, hence, a converting plant is susceptible to even localized perturbations in the market.
The more interesting story, however, is the story on the upscale side of tissue. Many tissue producers are trying all sorts of angles to gain an edge against the big players (P & G, K-C, GP and SCA). Wausau has their green initiative—Ecosoft ™. Cascades (No. 4 in the US) is out with antibacterial paper towels. K-C has funded studies which claim laundered shop towel cloths may contain unsafe materials (obviously pushing the use of K-C professional throwaway towel products). All assault hand dryers in public bathrooms as germ spreaders, a phenomenon even observed by the all-seeing, all-knowing Dr. Sheldon Cooper of the popular TV show, "The Big Bang Theory."

****
Savvy advertisers read Advertising Arguments.
****
Years ago, when yours truly entered the business, the market was about soft and strong. Forays were made into enhanced performance products, but were largely abandoned because, quite frankly, one really did not need them to sell product and gain market share. Today, however, the market, especially in developed countries, has become ever more sophisticated. People are far more sensitive to disease transmission. The news about antibiotic resistant strains of bacteria mean they will become even more hygienically concerned, especially in public locations. Their bottle of hand sanitizer may evolve into a hand sanitizer in a tissue.
No, the closing of a couple of tissue converting plants is not likely a precursor to the fall of western civilization—it seems we may be facing a fall, but tissue will not likely be the indicator. To quote a snippet from my poem, The Pulp and Paper Industry*: "What, through a heritage of thousands of years, wipes away sickness, wipes away tears? Tissue and greeting cards bring us these functions…" I think we are on safe territory here.
For our quiz this week, we'll ask you to be the idea generator for a tissue company. What new products would you come up with? Have some fun and take it here.
For safety this week, we have many tissue and paper related products in our safety supplies. How many can you name?
Be safe and we will talk next week.
*Copyright Jim Thompson, 2010 all rights reserved.