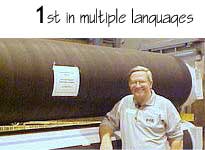 Week of 18 Jan 10

Click here, then click "Trans lator" in top navigation bar for other languages.



This past week, a good friend and I had yet another discussion (note: I enjoy these, keep them coming) about saving old pulp and paper mills. Old is really a misnomer--the real issue concerns those already obsolete or nearing obsolescence--age is not the issue. My friend, like many others, finds it irresistible to try to save some of these. And, perhaps, some should be saved, but each case is special in its own right and must be examined very carefully from every angle.

Let's look at a couple of examples from other venues for a moment. As I write this, the people of West Point, Georgia, USA, are not aware we are in a recession. In fact, this feeling starts with my next door neighbor. What is the source of this economic joy? Hyundai and its subsidiary Kia. My next door neighbor is a plant manager for a plastics plant that makes car components. Three years ago, his plant was making parts for BMW (in South Carolina) and Ford and GM here in Atlanta. Today, his plant is almost constantly expanding as his business with BMW, Hyundai (in Montgomery, Alabama) and the new Kia plant in West Point, Georgia suck out all the parts he can make (the Ford and GM plants are closed). All this while Detroit has one of its bleakest winters ever.

Second example. I am a regular, if informal, mentor to a pastor in a mainstream, liberal Christian denomination. In the early 1980's, when he was a young divinity school graduate, he started a church in a school (common here) here in suburban Atlanta. For those of you unfamiliar with religion in America, the south is in particular conservative, often called the "Bible Belt." He had an uphill battle. He started with nothing and within 15 years had built a very large church--over 1,000 members. They built a building, expanded the building, and then moved to an even larger building as they continued to grow. After a while, seeking new challenges, he resigned. Now, a few years later, a year ago, he took the job of Pastor of a church built in the 1960's, but poorly mismanaged in recent years. It is in fairly sound financial condition but had dropped to about 35 members. A year ago, he thought he would go into this situation and repeat his earlier success. Now, he is frustrated--he has learned that old habits and ideas die hard. He can't move those 35 people, as few as they are, to dare to dream new dreams. He has made almost no progress in a year.

If two mills have the same marketing opportunities (you can't sell a grade no one wants to buy), the difference in the success of each will be the people, not the physical assets. In short, if group think in one mill is one of entitlement, a right to exist, they will not. However, to paraphrase Jack Welch (former CEO of General Electric), if the group think is as if the entire mill personnel are standing at the end of a dock in shark infested waters and a fire has broken out between them and land, consuming the dock rapidly, they have a chance.

Again, if the markets exist, the attitude of the employees is all that matters. One of my favorite examples of a very successful old mill is Tama Paperboard in Tama, Iowa. They have been making coated recycled boxboard on this site nearly forever (the place started up in the early 1870's making egg flats from wheat straw). It has a good market. It does not have the fanciest assets (one little machine less than 90 inches wide). It is financially healthy and has been for decades. One thing I used to say about this mill is that what saved it was that it was near nothing (beaches, ski slopes, casinos, and so forth), hence no corporate types saw any reason to come to eastern Iowa to "help" it.

Reflecting on my examples of Hyundai versus the Detroit automakers, it would be easy to conclude a cheap inference that I am blaming unions for the stark disparities between the two. Not so. Unions do not bear all of the problem, although they do have their share. I blame the group think of everyone involved--they went from "esprit de corps" to "we are invincible." This is a transition that has felled great cultures and societies since the beginning of recorded time.

The desire to keep old mills running permeates from top management to 4th hand. Corporate management is loath to take writeoffs or incur the environmental cleanup costs a shut facility may trigger. Employees working on the site want to see the gravy train continue. No one wants to bear the apparent costs of change. Yet, the sooner, especially for the employees, you get on with it, the sooner you can improve your attitude and move on to a better place in life. It is like the two times I have been told I had cancer. In those cases, there were no options to return to the way things were. So, I said, "Let's get on with the treatment, the sooner the better." Some mills have cancer, but everyone is ignoring the diagnosis. Time to move on. In place assets mean almost nothing and are not an indicator of future success.

And, for this week's survey, we are asking whether you think your mill will still be operating in 2020. You can click on "More" below to respond and results will be in the "What do you think?" department below next week.

For safety this week, let's talk about cancer. Are you up to date on your screenings? They are the best thing you can do--early knowledge is your best weapon. This year I am celebrating 10 years since my first diagnosis and 3 since my second (they were not related cancers). Early is indeed better.

Be safe and we'll talk next week.

P.S. you may want to check out our new department "Where I work" at the bottom of Nip Impressions.