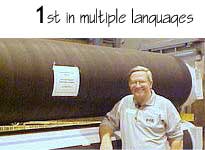 Week of 11 Jan 10

Click here, then click "Trans lator" in top navigation bar for other languages.



Like robins foretelling spring, the first sign of coming rampant inflation has arrived. In this week's issue of PaperMoney, there is a press release from Pactiv Corporation (NYSE: PTV) that announces a switch to FIFO for inventory accounting. FIFO, for you non-accountants, is short for "First In-First Out" as opposed to LIFO which is short for "Last In-First Out." This all has to do with how you value inventory on your Profit & Loss Statement.

Pactiv follows with some explanatory words about volatile resin prices and a merging of US and international accounting standards. The latter is offered because international accounting standards do not, according to Pactiv, allow LIFO methods.

Now, without casting any negative comments on Pactiv's reasoning, I have to say I have seen all this before. If matters unfold like they did in the past, this is the first of FIFO/LIFO announcements for years to come. In the late 1970's, when inflation reached nearly 20% in the United States, these announcements were nearly weekly, not only in our industry, but in any business that maintained a significant inventory.

In times of rampant inflation, FIFO can understate a corporation's income (if you are successful in holding down your input costs) and concomitantly reduce the tax burden. This is good for corporations that are able to affect large price increases.

For corporations that are on FIFO and operating poorly, a switch to LIFO in times of rampant inflation can mask poor operations management. The point is, when inflation is rising, there are more opportunities to play games (and, note, I am not accusing this single case, Pactiv, of playing any games).

So, how do you evaluate companies in times of rampant inflation? Of course the one you are most interested in is your employer. If you legally have access to inventory records (actual counts by tons, cases, or whatever) and can compare these over a period of a couple of years, you can tell. Growing inventories denominated in customary units of production, not money, and write offs for obsolete inventories are real indicators of a business's health.

I once knew an integrated pulp and paper mill, for instance, that had pulp inventories stuffed everywhere within a 200 mile radius of the mill. They tried to keep this quiet, but it was out there, nevertheless. It existed because the surplus pulp production balanced all aspects of the mill's operation and because it was made by a process resulting in a product no one wanted to buy. Thus they were stuck manufacturing it and warehousing it (I have heard in recent years they have found a vibrant market for the pulp and have matters back under control).

So, expect to see an explosion in inventory accounting method change announcements if (I really think it is when) inflation rears its ugly head. The change from LIFO to FIFO or the other way around is not important as a general indicator, it is the volume of announcements that is important. Then, if we go along at a high inflation rate for a few years, the volume of announcements will dwindle as companies position themselves for the reality. Later, if it looks like inflation will subside, there will be another flurry of announcements as companies prepare for steady, lower or no inflation. It is the inflection points and their subsequent transient conditions that produce the changes. They subside during steady state conditions.

By the way, for this week's survey, we are asking what you think inflation will be for 2010. You can click on "More" below to respond and results will be in the "What do you think?" department below next week.

For safety this week, it is bitterly cold here in the Northern Hemisphere, while I noted temperatures for those of you down under are a bit warm. We are all in a transition of seasons and need to be smart about it. For instance, it was reported a couple in Oregon, with a new GPS they received for Christmas, started to Grandma's house using the shortest distance option. They ended up on some logging roads, stuck in a snowdrift for three days, and nearly died. The time savings was supposed to be 40 minutes. Safety is about being smart and practical.

Be safe and we'll talk next week.