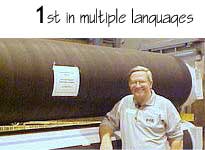 Week of 21 Dec 09

Click here, then click "Trans lator" in top navigation bar for other languages.



In the coming couple of weeks, most families around the world will be gathering. These are dysfunctional times, when Uncle Silas gets a little tipsy and starts telling us all he knows and what he would do if he ruled the world. If you are my age, you have sat through decades of these "educational" events. I have discovered this phenomenon crosses cultures, religions, ethnic origins, you name it.

Anticipating these times, it occurred to me that you and I, readers of Nip Impressions, have a wonderful opportunity to (a) take control of the conversation and (b) do something positive for the industry we love. In fact, if you will do what I suggest below, we'll have a chance to influence 50,000 to 100,000 people by January 2010 in over 90 countries around the world. The math comes from the reality that Nip Impressions is delivered to over 90 countries each week and assuming (a) a modest number of you are willing to execute the plan outlined here and (b) have family gatherings of around 10 people at least.

This idea comes in two parts. Below, in many languages, are click-throughs to Adobe(r) PDF files. Each file is two pages, same content different format. The content is labeled "Forest Products Facts" and is a listing of ten (10) easily verifiable positive aspects of the forest products industry. The first page is one you can print out and hang in your office or place of work, to remind you of some of the many positive aspects of our industry.

The second page is a page of multiple small versions, about the size of business cards. If you print this out and cut it up you can do many things with it. For instance, you could use it as gift tags, writing on the back, "To" and "From." Or, you could place one inside each present you give. Another thing you can do (we recognize some of you do not gather to exchange gifts) is place one at each place setting at a meal.

Now, about the translations. I know everyone is sensitive about their native tongue. I must admit that the Google translator was used to do the job. It has many flaws, including sometimes missing the little "squigglies" some of you like to put over letters. We also could not begin to cover all the languages spoken by all of our readers. Regrettably, we had to leave some out. So, apologies in advance if your language is not of proper grammar or spelling or is just plain missing. Just know the thought is there. Additionally, I put them in order as I named them using the English alphabet order. So, if your arch enemy is above you on the list, I am sorry. Remember, we are all papermakers, no matter our origins.

So, click on the language of your choice and you will be taken to "Forest Products Facts" in a language you hopefully recognize.

Arabic

Afrikaans

Chinese

Deutsch

Dutch

English

Espanol

Finnish

French

Greek

Hebrew

Hindi

Indonesian

Italian

Japanese

Korean

Norsk

Polska

Portuguese

Romanian

Russian

Svenska

If you happen to take some pictures of Uncle Silas learning about our industry, send them along and we'll try to find a place to publish them. Sent them to jthompson@taii.com with "Forest Facts" in the subject line.

And, of course, these are dangerous times. I mean family gatherings. Here in the southern United States, there is a famous joke about the "redneck's" last words (a redneck would be a good description for "Uncle Silases" everywhere). They are "Watch me do this!" Let's not have any of that.

Be safe and we will talk next week.