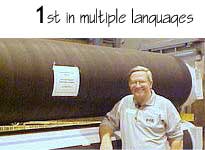 Week of 14 Dec 09

Click here, then click "Trans lator" in top navigation bar for other languages.



Well, not quite the old Zager and Evans song from 1969 (In the Year 2525), but it will work for us this week.

What will the pulp and/or papermill look like in 2025, a mere 15 years hence? I thought, as the end of 2009 approaches, I would consolidate thoughts expressed elsewhere over this year into one nice, neat little package for you.

Let's start with a greenfield plan.

1. It will be permitted in less than 9 months by a new kind of consultancy which exists by then--one which specializes in rapid permitting. This consultancy will have experienced lawyers, engineers, environmental scientists and public relations experts with a track record of moving a project through permitting rapidly.

2. From the driving of the first pile to making paper will be less than 12 months. I have already watched up close and with great interest as this was done in 15 months. The 12 month mill will probably occur much sooner than 2025--I would guess by 2013.

3. The entire facility, from piles to roof, will weigh half what a mill weighs today. We have discussed this before.

4. Total installed cost per daily ton, in constant currency, will be 80% of what it is today.

5. Permanent employees on site, from 4th hand to the top executive, will be less than 1 per 10 daily tons. All will have at least a two year college degree, 70% will have four year degrees or more.

6. Over 50 UAVs (Unmanned Airborne Vehicles) will monitor nearly everything on the site. We have talked about these before.

7. All energy demands will be met on site using own and other's waste.

8. If so located, our mill will use seawater as its water source. Otherwise it will use brown water from other industries' or cities' discharges. Effluent leaving the mill, if any, will be of potable quality and will likely be a revenue source.

9. Our mill will manufacture either tissue; container or packaging grades; or organic chemicals and fibers. These product lines will not be mixed on the same site.

If all the mills in North America were replaced with these new mills, they would require half the mill sites and employ 1/4 the permanent personnel of today's agglomeration and easily meet the demands of a society which will use more tissue and more packaging/container per capita than ever before.

In our 2025 mill, a safety reality will be this: fewer people will have fewer accidents. But in the meantime, don't have one--let's all plan to be successful survivors gainfully employed in the mill of the future.

Be safe and we will talk next week.