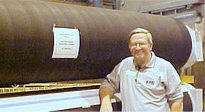 Week of 13 Aug 2007
Managers that truly understand maintenance are often frustrated by scoldings and budgets from on high that keep them from doing their job. The cost of maintenance is often looked at as just that: a cost, not an effort to preserve assets or improve uptime. Budget planners get around this by putting a certain amount of downtime in the budget each year, thinking it is "free" time, because it does not have a real dollar cost associated with it. What they do not realize is that poor maintenance is cumulative, and soon what was three days allocated for emergency downtime this year is five days five years from now (of course, they don't plan on being in their position in five years, so who cares?).

Several colleagues of mine have become heroes by assuming management of facilities with poor maintenance histories. These were facilities with reasonable markets, so there was not a major problem there. They simply fixed the maintenance situation which in turn improved not only uptime but run rates, and lowered costs. Yes, lowered costs.

I think I have found a metric that will allow maintenance professionals to argue their case, but first a story or two.

Nearly a decade ago, I was consulting with a small company that made a vital component for suction rolls. To me, it was a perfect business, for they built something that was relatively inexpensive, yet absolutely vital. It was and is the weakest link in a suction roll. Now, for those of you not close to the process, most mills have two suction rolls for each position in the paper machine. As one is taken out, it is supposed to be immediately refurbished and ready to go back in at a moment's notice (actually, in this case a "moment" is several hours, but you get the idea).

The firm I was advising wedged their way into the business by offering rapid turnaround. They would stock blank material then upon receipt of an order stay up all night machining exact pieces for the customer's application. They could ship any order in twenty-four hours. When I came along, they still did not charge extra for this service. I suggested they double the price for this emergency service, for there was no excuse for a mill not having the spare roll ready to go in the machine and any time someone needed these parts on an emergency basis it was a clear indication that they had not done their job.

They were a bit tentative, but finally I persuaded them to try it. They did and guess what—nothing changed except they made more money.

A couple of weeks ago, I was touring some machine shops near major industrial facilities. Although these shops do a considerable amount of original manufacturing of components, there is a good business in repair components as well. I saw major forgings in for rebuilding because a bearing had been wiped; shafting needing rebuilding because the bearing surfaces needed refacing and so forth. All indications of neglected maintenance.

This leads me to my idea for a new metric, one that perhaps the accounting department can understand. Measure the raw cash costs of emergency repairs performed on your behalf by outside machine shops. Track this as vigorously as you track your safety record. Make a big deal about it. Set as a goal zero outside costs due to emergency repairs. Accounting can sink their teeth in it because you are tracking and reducing a real cash cost—one that can be simply measured.

Your uptime and productivity will improve remarkably.

Of course, maintenance disasters lead to safety disasters. Most mills with excellent maintenance have very low recordable injuries and that link is not a coincidence. You can work on safety attitude all you want (and you should) but attitude will not save a person from parts flying out of the machine.

Be safe and we will talk next week.