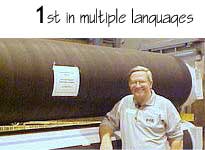 Week of 30 Nov 2009

Click here, then click "Trans lator" in top navigation bar for other languages.



FarmVille is a game on Facebook. If you are not familiar with Facebook, I would be very, very surprised; for I have already been shocked by my Luddite acquaintances who are there (I think their kids dragged them there to see pictures of their grandkids).

I am going to end this column with a direct application to the pulp and paper industry, but please indulge my wanderings for a minute or two.

FarmVille was launched last June. By October it had 54 million players around the world. Despite my horrible reputation for messing up simple math here on Nip Impressions, I am going to take the plunge again. If these 54 million spend only 15 minutes each per day on this game, this is equivalent to building the Great Pyramid of Giza (also known as Khufu or Cheops) in about two months. I'll confess to spending at least 1/2 hour per day on it.

My wife and her brother, when I told them about this addiction, told me to "get a life." This was while they were sitting watching a ball game on TV--enough said.

FarmVille has many, many lessons about capitalism, management, friendship, helping others. If one really thinks about it, it is quite deep, for the hidden rules that have been set up encourage one to act in certain ways. So far, it has been "sweetness and light"--everything turns out nice. However, it is constantly under development, so I expect (and hope) it some day has floods, droughts, pestilence, tax collectors, environmental regulators and so forth, just like real life.

The real life piece that it brings is that it links people one may know but may have not talked to in years. You have "neighbors." One of my "neighbors" is a cousin I have not seen since 1962. A couple of others are cousins I have never seen before (in my family, there are so many scattered cousins, they can hardly be counted). Others are friends from across the years from wildly divergent geographic locations (one is an engineer in Egypt who happens to be a native of India).

FarmVille is not the only game on Facebook. There are many, many others, with equally plentiful and devoted followers. These games are all being developed by a company called Zynga, in San Francisco, California. Their games also work on iPhones.

Here's where the pulp and paper industry comes in. Back in the mid-nineties, I had a vision of an online pulp and paper mill simulator, where we could all play around the clock. My idea was to have managers, operators, technical people, maintenance and so forth. I thought it would be a great learning experience. I presented it to the senior management of a large technical organization on 3 Oct 1995 (I remember the date, for it was the date O J Simpson was acquitted). They said, "Great Idea!" and wished me well. I spent years trying to find volunteers to help put it together to no avail.

Zynga could do this. It would probably have to be a general process plant game in order to attract enough players, but that is OK. I have already written to them and begged them to consider this. They, of course, think I want a fee. Not that a fee would not help put bread on the table around here, I do not--I just want to see it built and operating.

To help with this project, what I would like for you to do is this. If you think such a process plant game would be instructional, informative and a good training tool, let Zynga know. Send them an email at Businessdevelopment@zynga.com. Use your own words, or use these:

"Dear Zynga:

"Please develop a game that simulates the operation of a process plant with pumps, valves, pipes, vessels, boilers and so forth. If you can make it a pulp mill that would be great."

Pass this column around and get everyone you know (in industry, academia, your kids) to write to them, if you please. We may finally get an around the world, 24/7 simulator we can all use.

Of course for safety this week, it is inevitable we point out the danger of too much time in front of the computer. Make sure your work place is ergonomically friendly.

Be safe and we will talk next week.


P.S.:

A few new features this week:

1. We have launched a Mobile Version of Nip Impressions which should be much easier to read on your handheld device. When you receive the Nip Impressions Email on your handheld, just click the link at the top of the page to go to a version formatted for mobile readers. If you have any comments on its functionality or how we can make it work better, please email me directly: jthompson@taii.com
2. We have also added a new feature--What do you think? With just two clicks you can vote in our weekly survey question. If you have something you want us to ask, there is a provision to do that, too.
3. At the end of this week's issue, we have added Jim's Book Club. Self-explanatory.