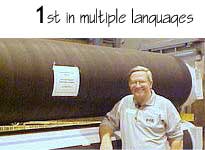 Week of 23 Nov 2009

Click here, then click "Trans lator" in top navigation bar for other languages.



With the United States' Thanksgiving Day approaching on 26 Nov 09, a long standing celebration centered on a huge meal with turkey as the main course, a recent flyer we received in the mail caught Laura's attention. The company behind this missive was advertising (my words), "green turkeys." These turkeys are free-range grown, fed only organic feeds, and lovingly "harvested." You can procure one of these politically correct birds for your feast for approximately (including shipping and all) a mere $120 (comparison--a similar size turkey from the local market is around $20.00). I can not fathom the mental level one is on that finds this an attractive proposition.

Dr. Seuss, in the famous tome, "Green Eggs and Ham," first published in 1960 (beating Rachel Carson's "Silent Spring" to the printer by two years) had no idea what a visionary he was.

It had been a puzzle to me how people were going to make money in "green jobs" but the Green Turkey makes this crystal clear: appeal to people with lots of disposable income and excessive environmental guilt thereby persuading them to pay 6 times the normal price for something of nominally questionable premium value.

If someone was really serious about this whole matter, I would suggest they eat peanut butter instead of turkey. It is a great source of protein and I find it particularly tasty on a big stack of pancakes lathered in maple syrup. I would prefer this to turkey (my long standing personal food motto: "The best meal I ever had is not that much better than the worst meal I ever had.").

Just a few weeks ago, I was on a panel with a senior executive of a major paper distribution company. He described the efforts they go through to assure that all the paper they sell has legitimate "green labels." A paper manufacturer in the audience, who happened to supply this distributor, verified her company has a lawyer engaged full time in nothing but confirming chain of custody from the forest to the paper machine. This is certainly a green job.

Considering these anecdotes, one can ignore their own opinions and see a cynical, mercenary path to "green jobs" for all. One starts here: the idea of being "green" has become a cachet rivaling any haute couture designer's fondest wishes. It has two connotations: (1) if the purchasing public perceives a "green solution" exists and you don't provide it, you are out of business and (2) the more "green" you can look, no matter how silly it may be from a practical point of view, the higher the price you can charge.

One of the reasons, particularly in developed societies, that one can pull off nonsense like the Green Turkeys described above is easy to explain. With vast majorities of the population living in urban settings, these urbanites really have no clue what goes on in rural areas, be it farms, papermills or otherwise. The interpretations they have transformed into certainty in their own minds result from equally ignorant urbanites, on what they perceive as adventures into the hinterlands, reporting back to their fellow city dwellers through unknowing eyes.

Some of these reports are funny. I, for one, don't think you have really gone on a hike in the woods if you are on a maintained and marked trail. You can't see what is in the woods from a traveled trail--it takes a compass and getting lost to find what a woods is really like. Yet, some of these characters think they are really roughing it when the pavement runs out and they have to walk on dirt.

Another example. If these people had any idea how we made little boy pigs into little neutered pigs back when I was a kid on the farm, they would have a fit (I don't have any idea how they do it now). Suffice it to say, the procedure did not involve any anesthetic, but did involve a special sharp pocket knife, and, we thought we were really progressive when we graduated to a powdered antiseptic, eschewing the turpentine one of our neighbors recommended to avert infection in the wounds (at least the squealing seemed to stop sooner). City folks have absolutely no idea what is necessary in order to raise or manufacture the items they buy every day. Hence, the gullibility to green turkeys and other such matters.

Some of these reports are dangerous to us. Click through to this site and look at the title on the picture. Also look at the keywords (and let me assure you this is not the only picture on the web of this ilk). Anyone in the industry knows this is water vapor. And, technically, water vapor is "emissions." However, the public has been conditioned to associate "emissions" with pollution. This suggests if a mill spent the money to collect all the dryer vent discharges in one place and condense them, such a mill could publish pictures declaring their process "emission free" and possibly garner a better price for their "green paper." Some green jobs and green economic activity may be as simple as this.

The green turkeys have educated me. Green products and jobs mean money. Forget practicality, exploit the hysteria. The whole situation reminds me of an exchange I had with a recycling consultant that visited our offices about fifteen years ago. She was scolding me because we did not recycle in our office. Without thinking, I replied, "Drug dealers don't use drugs." She was not happy with my response.

But this is where we are. We have to put aside our own feelings of practicality, especially if the idea of going green is harmless. If someone wants to pay more for green products, we need to find ways to be there to serve them. It is a way to spin the invoice printer faster, much faster, than you did before.

Safety knows no color. Make sure your daily acts are done in a safe manner, at work, home and traveling in between.

Be safe and we will talk next week.