[Adv.] ASD Inc.
Published: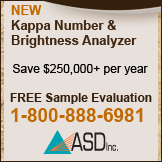 ASD has a very nice instrument for Kappa Number and Brightness measurement which they are featuring at the moment. I encourage you to check it out by either clicking on their button ads or "More" below.

And when you talk to ASD Inc., please tell them you saw their advertisements at Paperitalo Publications.

Regards,

Jim







Riddles by Travis:

Name an African country that has the vast bulk of its land mass on the mainland but its capital on an island.

You can find the answer by starting here.



Comment