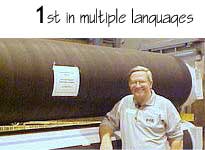 Week of 16 Nov 2009

Click here, then click "Trans lator" in top navigation bar for other languages.



When I surveyed readers a while back on our political content in pulp and paper discussions, some preferred we avoid politics. I have come to the conclusion, and so stated it over at The Thompson Private Letter, that we no longer have a choice--politics are inextricably linked to modern pulp and paper manufacturing and sales activities. They can not be avoided.

It has really been this way for a long time, but as a individuals and collectively as an industry we have tried to avoid it, probably to our detriment.

Politics started to become entwined with all manufacturing industry through the labor movement of the mid- to late 1880's. Poor working conditions, poor wages, safety, onerous hours, all contributed to labor rising up and saying enough is enough.

Since the 1960's, environmental issues, energy issues, worker safety, product safety, diversity and other issues have all, some would say, encroached on our businesses and affected they way we operate. Some of these issues were promulgated by our own poor track record, others were imposed on us by activists. It makes no difference--they are here and we have to deal with them from now on.

These matters seem to disturb older members of our industry more so than younger ones. Younger industry participants (say, roughly age 35 and below) seem to take this all in stride, for they grew up aware of environmental activities. I, age 59, remember roughly when I first heard the word "environment"--I think I was 17 or 18 years old. And it wasn't in school; it was in 4-H Club literature (for those of you outside the US, the "4-H Club" is a nationwide organization for rural youth here). I thought it was a funny, silly word.

Early in my career, the environmental professionals were off in the corner of the mill and were supposed to interact with (read: keep happy) the environmental regulators and not bother the mill manager or operations with any of their activities. As the years have gone by, environmental and now energy activities have come front and center, turning the tables on how things are done.

Today, we must first ask what are the environmental, energy and other constraints that define the playing field. This also includes matters such as fiber source sustainability certification and so on. Skilled managers must first define the working area, based on outside constraints, and then work within them.

This leaves Nip Impressions with no place to go but to include politics in our discussions more often than we would like. Conditions have become something like the days of old when a monarch gave a company a charter to operate. Monarchs have been replaced with laws and bureaucrats, but we still have to obey them, as much as we sometimes find it distasteful and their laws and regulations quite cavalier.

For the manager, this new world means that they not only have to be proficient in all the old skill sets, the have to embrace and hone a political acumen, too. Managing becomes even more challenging as time passes.

So, we did not start the political discussion, but we must carry it on, for no business today is immune from being involved in politics.

Fortunately, our basic personal safety is our business and we can be in control of that without interference.

Be safe and we will talk next week.