[Adv.] TDC, LLC
Published: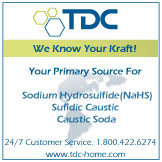 As we have mentioned before, TDC is the global leader in production and distribution of sodium hydrosulfide (NaHS) and is very familiar to pulp and paper mills worldwide. TDC's NaHS and NaOH products are building blocks you can not do without. I suggest you contact them today.

TDC is adding new production capabilities and service terminals. Want to know more? Visit TDC's website (click on "More" below). Tell them I sent you, please.

Regards,

Jim








Riddles by Travis:

"Tippy" is part of the adjective-laden nomenclature describing the finest grades of what?

You can find the answer by starting here.



Comment