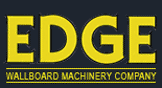 This week, we want to welcome Edge Wallboard Machinery Company to our list of fine companies highlighted here. In business since 1956, the words "Wallboard Machinery" in their name at first described all they did. Soon, however, their fine reputation caused papermakers in need of superior components value-priced to seek them out. The rest, as they say, is history.
Contact Edge to learn more about their ability to fill your needs for paper machine components.
And when you talk to Edge, tell them you saw them on Nip Impressions.
Jim
Answer to last week's riddle: Winston Churchill, referring to Russia
Last week's riddle asked: "What famous world leader uttered the phrase "a riddle wrapped in a mystery inside an enigma," and to what was she/he referring to?"
This week's riddle: What flying "toy" has annual sales thought to exceed those of baseballs, footballs, and basketballs combined? (Hint: It celebrates its fiftieth anniversary this year)