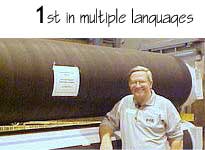 Week of 19 Oct 2009

Click here, then click "Trans lator" in top navigation bar for other languages.
Follow Nip Impressions on Twitter




As we search for more ways to sell paper, especially grades involving printing of any kind, perhaps an idea worth examining is bundling more services with the paper.

Typically paper companies own paper assets and printers own printing assets. I am not proposing to change that, but modify it in a way that may help both parties.

What if paper manufacturers sold, along with the paper, the complete operational and maintenance expertise to run the printers' presses? In other words, the press operators and press maintenance personnel became employees of an arm of the paper making company? What if, then, the paper manufacturer sold the printed paper to the printer at the discharge end of the printer's press, ink included?

This has some potential for real savings and profits for both parties. The printer avoids the headache of running the press, dealing with paper and ink suppliers and so forth. The printer ends up buying only an acceptable product off the end of their own presses at the time and in the quantities needed.

Paper manufacturers have nearly all the expertise, at the management level, to do this now. Due to the long term history of the way returns and allowances are handled, the papermaker has been forced to develop and maintain printing press expertise in order to protect their profits and to "keep the paper sold."

If the paper was sold to a specification as printed, all the fussy little loose ends of returns and allowances, ink compatibility, finish, delivery, schedule and so forth become the responsibility of one party. The inefficiency and gamesmanship of the current system is drastically reduced.

The printer still has a good business, too--binding, distribution and sales of finished product. They have the portion of the business they know best and where they can thrive.

There will be economies in maintenance, too. The paper manufacturer can develop a crack team of press maintenance technicians that can geographically roam their clients' presses and bring a level of expertise not available to a regional player. The press owner becomes the beneficiary of a much larger pool of expertise in maintenance and operations.

The paper manufacturer can blend the right combinations of base stock, machine coatings, press coatings and inks to meet the spec at the lowest possible cost.

And, of course, we cannot talk about pressrooms without talking about safety. The hazards, mechanical, chemical and vapor, are legion.

Be safe and we will talk next week.