[Adv.] Independent Consultants
Published: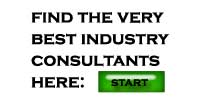 We want to use this space this week to hightlight the independent consultants that support us. This is a fine group of experienced professionals with a multitude of great experiences and expertise. Please click on the link above or "more" below to see what they can bring to your business. I have personally known each of them for some time and highly recommend them.

Jim






Riddles by Travis:

Answer to last week's riddle: Mamihlapinatapai, The Guiness Book of World Record's "most succinct word" meaning: "a look shared by two people with each wishing that the other will initiate something that both desire but which neither one wants to start."
http://en.wikipedia.org/wiki/Mamihlapinatapai

Last week's riddle asked: "It is garbage day, but it is raining. There is a large bag of dirty diapers that need to be taken out, but neither parent wants to get wet. What is the perfect word for this type of dilemma? Hint: The word comes from Tierra del Fuego."

This week's riddle: What is an eight letter word, beginning with q and ending with x, related to probabability and the normal distribution? Hint for "Price is Right" viewers: think "Plinko".

Starting this week, we are going to revise the delivery of riddle answers. You no longer have to wait until next week. You can find the answer by starting here.



Comment