[Adv.] ASD Inc.
Published: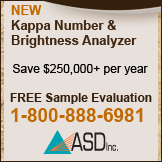 ASD has a very nice instrument for Kappa Number and Brightness measurement which they are featuring at the moment. I encourage you to check it out by either clicking on their button ads or "More" below.

And when you talk to ASD Inc., please tell them you saw their advertisements at Paperitalo Publications.

Regards,

Jim






Riddles by Travis:

Answer to last week's riddle: "Equal division of the contested sum." See http://dept.econ.yorku.ca/~jros/docs/AumannGame.pdf for details.

Last week's riddle asked: "A man has three wives, each with a pre-nuptial agreement. Upon the man's death, Wife 1 is to be paid $100,000 from his estate, Wife 2 is to be paid $200,000 from his estate, and Wife 3 is to be paid $300,000 from his estate. Unfortunately, the man dies with only $200,000. A judge splits the estate in the following manner: Wife 1 -- $50,000, Wife 2 -- $75,000, Wife 3 -- $75,000. Under what specific rationale could this be construed as 'fair'?"

This week's riddle: It is garbage day, but it is raining. There is a large bag of dirty diapers that need to be taken out, but neither parent wants to get wet. What is the perfect word for this type of dilemma? Hint: The word comes from Tierra del Fuego.

Comment