[Adv.] TDC, LLC
Published: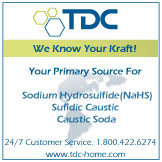 As we have mentioned before, TDC is the global leader in production and distribution of sodium hydrosulfide (NaHS) and is very familiar to pulp and paper mills worldwide. TDC's NaHS and NaOH products are building blocks you can not do without. I suggest you contact them today.

TDC is adding new production capabilities and service terminals. Want to know more? Visit TDC's website (click on "More" below). Tell them I sent you, please.

Regards,

Jim






Riddles by Travis:

Answer to last week's riddle: Paper, of course. According to the World Rock Paper Scissors Society -- http://www.worldrps.com -- "Haven't a clue what to throw next? Then go with Paper. Why? Statistically, in competition play, it has been observed that scissors is thrown the least often. Specifically, it gets delivered 29.6% of the time, so it slightly under-indexes against the expected average of 33.33% by 3.73%. Obviously, knowing this only gives you a slight advantage, but in a situation where you just don't know what to do, even a slight edge is better than none at all."

Last week's riddle asked: "If you have one throw to make in a Rock, Paper, Scissors tournament, what (statistically) should you play?"

This week's riddle: A man has three wives, each with a pre-nuptial agreement. Upon the man's death, Wife 1 is to be paid $100,000 from his estate, Wife 2 is to be paid $200,000 from his estate, and Wife 3 is to be paid $300,000 from his estate. Unfortunately, the man dies with only $200,000. A judge splits the estate in the following manner: Wife 1 -- $50,000, Wife 2 -- $75,000, Wife 3 -- $75,000. Under what specific rationale could this be construed as "fair"?

Comment