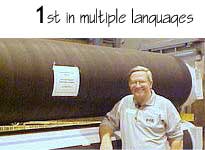 Week of 28 Sept 2009

Click here, then click "Trans lator" in top navigation bar for other languages.
Follow Nip Impressions on Twitter




There are a number of great explorers, Ferdinand Magellan being one of them, probably known to school children worldwide. Magellan stands out to me, for he had already been to the Spice Islands, by traveling eastward, and when he died, was trying to find a path by going westward from Europe to the same place. He was interesting in that he had an objective in mind, and was trying to find a better way to achieve it--he knew what he wanted; he was looking for efficiency in acquiring it.

Last week I vaguely referenced my recent exposure to a couple of presentations concerning biorefineries. I would like to bring this more into context this week and use Magellan to illustrate the point.

The presentations I witnessed were by renowned researchers vying for a prestigious position leading a well known research institute. Fortunately for them, I am not on the search committee, for I was underwhelmed in both cases.

To say we have research challenges in this industry would be like saying a human without lungs has difficulty breathing. The problems are gigantic. Yet, these presentations were nearly clones of each other, staking our entire future as an industry on the biorefinery. The issue of funding was barely touched. The issue of engaging the industry was ignored. The issue of training future scientists was acknowledged by one and not the other.

Now, I must admit I was a novice at going to such presentations and perhaps this is the way they are all done, perhaps this is what the presenters were told to do in this forum--talk about exciting research. Perhaps the serious issues were to be discussed behind closed doors with a limited audience. I have no way of knowing.

However, thinking about all of this, I did come to a conclusion about the attributes required in a research director, in business or a public institution, should I ever need to hire such a person. I want an equivalent of a Ferdinand Magellan. I want an explorer with wide ranging experience pertaining to the subject at hand, equipped personally with the training necessary to do the job and the leadership skills to comfortably take their troops to the very edge of their knowledge zone, prepared to confront and evaluate all things found along the way as to usefulness, efficiency and, ultimately, practicality. This is what a research center leader should be.

One reason I was unimpressed with the "biorefinery only" approach is this: we really don't know if it is a solution to anything. Of course, this is why we do research and why we should spend appropriate sums exploring it. But what if it, to mix metaphors of my explorers, is the Hudson River, a dead end? The presentations I saw left me believing these candidates were not equipped to take any other path should this one die. It was an unspoken and unanswered question as to what they would do if the biorefinery is not our salvation.

An example of a very viable and possible situation which may develop in our industry and which may have nothing to do with the biorefinery. Since I initially formed the ideas for this week's column, I completed a speech to be given on Friday, 25 Sept 09. You can find a copy of it in "White Papers" below titled "Cap and Trade: potential impacts to pulp/paper mill operations." In preparing for this speech, I came to the conclusion that soon, everything we do in every context is going to have a "cap and trade" consideration involved in it. When asked where the potential impacts of cap and trade will be on our business, I have to answer, "Everywhere." This matter is beyond arguing its merits: it is a train that has left the station, a ship that has left the harbor. It will be the biggest thing in the next ten years and wherever we are doing research, we need the equivalent of a Ferdinand Magellan to guide our way.

For safety this week, let us talk about laboratories for a minute. These seem like such benign and safe places, but we all know many accidents happen in them every year. They have gases, liquids, heat, all things that can create unsafe conditions when used improperly. Be trained and be serious when you are in a lab.

Be safe and we will talk next week.