[Adv.] Edge
Published: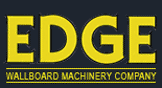 This week, we want to remind you of our fine friends at Edge Wallboard Machinery Company. In business since 1956, the words "Wallboard Machinery" in their name at first described all they did. Soon, however, their fine reputation caused papermakers in need of superior components value-priced to seek them out. The rest, as they say, is history.

Contact Edge to learn more about their ability to fill your needs for paper machine components. And when you talk to Edge, tell them you saw them on Nip Impressions.

Jim

Riddles by Travis:

Answer to last week's riddle: Ro-sham-bo, another name for Rock-paper-scissors, is named in honor of the French general Comte de Rochambeu, who was alleged to have won a game between himself, George Washington, and Lord Cornwallis "to decide who would be the last to leave Cornawallis's tent after the signing of the British surrender at Yorktown in 1781." Source: Rock, Paper, Scissors: Game Theory in Everyday Life by Len Fisher


Last week's riddle asked: "What popular dispute resolution technique is named (but spelled incorrectly) after and American Revolution commander? "

This week's riddle: If you have one throw to make in a Rock, Paper, Scissors tournament, what (statistically) should you play?



Comment