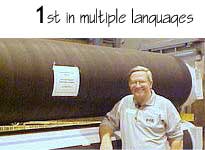 Week of 7 Sept 2009

Click here, then click "Trans lator" in top navigation bar for other languages.
Follow Nip Impressions on Twitter



Doris Smith died on 26 Aug 09, age 102. I am fairly certain you have never heard of her. I met her when I was 12 years old and she was 55. Turns out, in her case, that 55 was pretty nearly "middle aged" (most of us lie about being "middle aged" until our sixties).

I dare waste a bit of your precious time using her life to open this week's column in order to drive home a related point: it seems like we seldom harvest the valuable experience of our elders. This is not a new phenomenon, in fact it is one I am absolutely certain I have failed to do consistently in life, especially when early in my career.

It is ironic how we treat our senior colleague's experience, how dismissive we can be of it. On the one hand, we invest much time and treasure learning certain things others have already discovered. For instance, I suppose many of us, given enough time and a spark of an idea, could develop calculus from scratch. However, we take advantage of Sir Isaac Newton's work in the field (and other mathematicians that followed him) to shortcut this process and learn what he already discovered. In fact, much of learning, and technical progress, is because we respect and use the knowledge others discovered: we shortcut reinvention.

Yet, when it comes to gleaning direct experience from living breathing elder colleagues we often ignore what they have learned. I can remember back to when I was often guilty of doing this myself. As a young professional, one often thinks they are bringing forth fresh thinking, new ways of doing things, and an energy and vitality that will move the organization forward. To some extent this is true and good for the organization. Sometimes one needs to be dismissive of naysayers and those who say, "we tried that once and it didn't work."

Where the failing often comes, though, is when we do not take the time to ask why it didn't work, or ask the senior person to tell us, in detail, what exactly happened in the experience in our proposal they say is merely a duplicate of a failed plan. For in taking the time to understand their perspective, the nuances of the situation can be learned.

Yet when I was younger, I thought it foolish to encounter a colleague, with merely a few years' experience, carrying a title such as "Senior Engineer." To me, this is title inflation. Adding the adjective "senior" to someone's title should be something done sparingly, not idly. Senior should be reserved for seniors in experience.

So, don't ignore your seniors, no matter their title. They have much to teach you. Now that I am probably in this category, I am amazed at things career novices don't know. They blithely start down paths long since proven dead ends. I try to keep my mouth shut (unless they are going to hurt themselves or waste piles of money), for I know they need to learn, and experience is a great teacher. But if we could figure out how to truly sort out the dead ends from the efforts which need retrying with a little different spin, we could certainly improve our business efficiency. If you have any insight as to how to do this, we would all be interested in hearing from you.

And, of course, in safety, we should and do listen to others' experiences. This is one area where the experience of those that have literally gone before us resonates.

Be safe and we will talk next week.