[Adv.] 17th International Conference--Beijing, China
Published: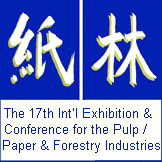 I wanted to take a couple of minutes to mention our partnership this year with the The 17th International Exhibition and Conference for the Pulp/Paper and Forestry Industries to be held in Beijing in September. Please note that the dates have changed to 16-18 Sept 09. If you do business in China, you won't want to miss this conference. Alternating between Beijing and Shanghai, I had the opportunity to attend several years ago and found it quite impressive.

If you have any questions or wish to find out more information, just click on the logo above or "More" below.

Jim

Riddles by Travis:

Answer to last week's riddle: 6006. Note: Go to the "Letters" column below to see Steve Moore's elegant solution. It was so elegant, in fact, we are going to give him a year's subscription to the Thompson Private Letter (a $295 retail value).

Last week's riddle asked: "How many rectangles are there on a piece of graph paper 13 squares long by 11 squares high (No tricks, you don't have to count the paper itself as a rectangle)?"

This week's riddle:

Nip Impression Madlib, fill in the blanks to create a true statement:
______ buys 250 million pounds of ____ to make the ____, about 2% of United States' annual ____ production.



Comment