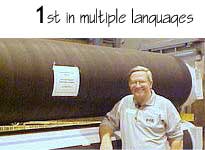 Week of 31 Aug 2009

Click here, then click "Trans lator" in top navigation bar for other languages.
Follow Nip Impressions on Twitter



This is an old theme, but worth repeating.

I often find myself on mill sites and in mills with some amazing housekeeping problems. It is clear the people working there walk by these every day without looking at them. Some managers think they are being smart by leaving these matters alone--they think they are saving money. Others have a fear of throwing away the obsolete, a belief that somehow they will potentially be liable. These are bad ideas and false economies.

One mill I enter occasionally has a long driveway, probably about a mile long, from the public highway to the visitor's parking lot. Along most of the length of this driveway is an abandoned overhead pipe bridge with broken pipes and loose insulation blowing in the breeze. Why don't they just put a billboard out front that says, "Audit us, please, EPA!" Any sort of environmental or safety inspector entering this mill has to have a mind set of looking for trouble, for if the mill has this mess out front for everyone to see, what is hidden in the bowels of the place? What does it say about the safety attitude it engenders in every employee driving in each day? What this eyesore has cost this mill and its parent company is incalculable. What the future liability may be is frightening.

Everyone has a bone yard, but how many people use theirs? I see lots of material go to bone yards with the idea it will come in handy some day, but if it is not organized, both physically and in some sort of a data storage system, it is as if you don't have it. There is an easy and relatively inexpensive way to organize all aspects of your bone yard: hire the local automobile recycling yard to come in and manage it for you. The good ones keep their physical inventory and the electronic data that goes with it very well organized, for it is their livelihood. If you are not going to organize it, get rid of it, for it may be laden with environmental liabilities of all types.

Another pet peeve of mine is abandoned offices. Someone retires or is terminated and their office is abandoned. There is one mill of which I am thinking where I know a person retired in 1998 and the office is still sitting as it was the day they walked out, including their name on the door! Not only are these fire and infestation hazards, they are legal liabilities waiting to happen. Say your mill is sued for something that occurred long ago. A plaintiff's attorney gets a whiff of the idea that you have in situ abandoned offices and you will spend inestimable amounts of time rummaging through these places, let alone considering the liabilities if anything is actually found. Within two days of someone leaving an office, a cockroach shouldn't be able to live in the place it has been scrubbed so clean.

Occasionally, you may be unfortunate enough to have someone die on the job. Many years ago, this happened to me--an engineer was out on the machine floor, had a heart attack and died on the spot. What do you do with their office? I was traveling that day myself, so I wasn't on site. When I flew into town that night, I went directly to the mill. A colleague, with a lot more experience than me, had had one of his trusted managers go through that office with a fine tooth comb. The occupant wasn't even cold yet. I confronted my colleague and he explained his rationale: even though the deceased looked like a nice, quiet older person, who knew what he might have had going on clandestinely. My colleague's intent was to make sure there were not any old love letters or other items that might cause distress to the decedent's widow or children. All in all, a very magnanimous, far reaching idea. Now, considering all the legal activities between that time and today, you probably should get the human resources department engaged in any such activity. Better yet, if the human resources department reports to you, sit them down and create a policy for how to handle such a possibility.

On another subject, the response to the idea of the Lightweight Papermachine was so large we have started a separate forum just to discuss it. You can find it here. We have also placed ads around our sites publicizing it. Joining is free and encouraged.

For safety this week, I have been studying dust explosions. They are quite interesting and happen in places other than just grain elevators (such as woodyards, pellet mills, flash pulp dryers, diaper lines, or tissue converting, under the right conditions). You just may want to spend some time ferreting out those little dust collections and their sources of propagation. See "More" below for information on wood pellet fires.

Be safe and we will talk next week.