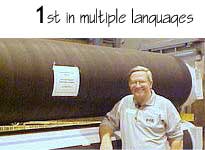 Week of 17 Aug 2009

Click here, then click "Trans lator" in top navigation bar for other languages.
Follow Nip Impressions on Twitter



Last week, this column suggested the world wide pulp and paper industry adopt a goal of reducing the weight of an installed paper machine by 50% (on an equivalent unit width basis) by 2025. Like President Kennedy's goal to go to the moon in the 1960's, this goal is not so much about the weight reduction per se as it is about vast benefits to be achieved from such a goal. Let's examine a small portion of this idea.

Obviously the biggest payoffs, and probably the most difficult areas in which to make these strides, are in dynamic, not static components. The reasons are obvious, but let's go through a few of them.

First, lighter weight dynamic components, which are the ones most likely to be changed out over the life of the machine, lead to some immediate savings. One needs smaller cranes and forklifts to install them, for instance. They will simply be easier to handle.

Lightweight press rolls can be hauled to service shops on smaller trucks using less fuel. Any lightweight dynamic components will use smaller bearings, smaller gearboxes, smaller motors. Their electrical drives will be smaller, resulting in smaller substations and maybe even smaller cabling to the mill.

Perhaps machine clothing, wires and fabrics, can be asked to do more. They transport the web, but only in a secondary fashion. If these elements could really transport the web, then the elements upon which they rest could become secondary, focused on only a specific application (I am thinking of things like table elements) instead of doing double duty as performance devices and structural support.

It is easy to see how we got here. As machines became faster and wider, we merely beefed up components with little thought to material changes or basic design changes. It was something of a brute force approach. However, today, with modern computer design software, we don't have to rely on empirical data; we can freshly design all of these components, optimizing material of construction selection as well as performance.

The automobile of the 1960's was a functional, crude device, brute force in nature. Today's automobile is an engineering marvel throughout. We could do worse than follow this example.

We received excellent, supportive letters last week from David Bennett and Chuck Green (see below) and even a couple that were confidential due to the advanced work some people are doing. So, we may be on to something here.

For safety this week, let's consider our PPE (Personal Protective Equipment). Are we buying the same old stuff we have been buying for years? Have new developments made new offerings of PPE that are more functional, lighter weight, and easier to use? It is worth an investigation.

Be safe and we will talk next week.