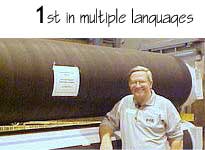 Week of 10 Aug 2009
Click here, then click "Trans lator" in top navigation bar for other languages.
Follow Nip Impressions on Twitter


For a long time, I have been bothered by the worldwide pulp and paper industry's lack of anything about which to really become excited. I feel about like NASA (the National Aeronautics and Space Administration) must have forty years ago, early August 1969, when the first moon landing was over: So what do we do next?

Many wise people have been trying many things to improve our industry--matters such as Agenda 2020 here in the United States comes to mind, for instance. Yet, as an industry we struggle to find a simple goal, one which encompasses the lot of what we need to do to revitalize the pulp and paper industry. Your writer submits he has figured it out.

As an industry, we should set a goal to reduce the installed weight of paper machines by one half by 2025.

Simply stated, for each grade of paper or paperboard we manufacture, let us figure out a way and resolve to cut the weight of the machine that makes it by 50% in the next 16 years (on a unit width basis). This will create a huge new paradigm, for the better, for the entire industry.

Think about it. All components will need to be redesigned. But this will not just be some empty exercise, it will have tremendous cost savings, most of which, of course, will be passed on to the customers who buy our paper, but in the process will keep many grades of paper and paperboard viable against the competition for decades to come.

It has always bothered me that as lightweight as paper is, why do we need all this heavy machinery to make it? I suspect we just got in the habit of accepting heavier rolls and so forth to solve the engineering problems at hand.

But think about it, for a given width, if the machine was half the weight it is today, think what this would do to the electrical energy consumption. Think what it would do to bearing sizes, foundations, building structure, house cranes and so forth.

As we have increased speeds and widths, we have, without a thought, increased roll diameters, structural members' sizes, drive sizes and motor sizes. We have not thought about using different materials or designs that would change the entire dynamics, pun intend, of the problem. These thoughtless designs have increased substation sizes and power consumption as well as made foundations more complex, just to cite a couple of examples.

Boeing can make an airplane out of carbon fibers and glue (although I am going to let those things be in service for a while before I'll jump on one of them). Why do we have to stick to making ever larger and heavier components?

I don't think I have begun to realize all the benefits we can gain from a lighter machine. For sure, such a goal will cause us to look at everything about a paper machine and offer us an opportunity to bring the brute force of the machine into the 21st Century in a light and nimble way. My feeling is this can make a profound positive change for the industry. I am anxious to hear your thoughts, positive and negative. Write and let us know what you think.

For safety this week, think about lighter components. If one is crushed by a 20 ton press roll instead of a 40 ton one, I suspect they won't know the difference, but there will be some places where this will make a safety improvement for sure.

Be safe and we will talk next week.