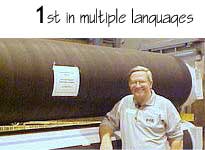 Week of 3 Aug 2009

Click here, then click "Trans lator" in top navigation bar for other languages.
Follow Nip Impressions on Twitter

My wife Laura was sitting next to a person on an airplane last week and the subject of paper came up. This person tries to severely minimize their use of paper. One of their many objections to paper production is that it (loosely quoted) "uses too much water."

My first reaction was, "how silly." After all, when we pull water from streams, we usually have to clean it up in order to use it. For years, our effluent going back into streams has been cleaner than the water we pull out. What else do we do with water? Well, we evaporate it (if you make 1,000 tons per day of product, expect to evaporate about 239,500 gallons per day [906,000 liters]) and we try to sell about 5% water (another 12,000 gallons [45,000 liters]). Importantly, we don't destroy water molecularly (might be good if we did, we could sell the hydrogen and oxygen).

We do have a couple of problems, though. Perhaps for once we could be proactive about these problems. Both of them have to do with the natural water table in the earth. I have heard reports that large mills drawing water from wells have regionally depressed the water table level due to their high, localized draw. In most places, this is not a problem, but if we are talking about a coastal mill, there is apparently a danger with drawing brackish seawater into the fresh water. If a town or city is nearby that draws from the same sources, there is a potential for sea water to invade the drinking water supply. The other water table problem is one I heard of a couple of decades ago and on which I am admittedly not current. This is the situation where high growth trees draw water so quickly they pull down the water table unnaturally. Perhaps some of you readers from areas of the world where this potentially occurs could write and tell us what the current situation is on this subject.

So, we do, in some cases use water in ways that may not be the best. However, these are site specific and should not be generalized throughout the industry.

While we are on water, though, let us go in an entirely different direction. The ubiquitous plastic throw away water bottle is rapidly on its way out. The environmental community has risen up against this with a passion and soon you will be wearing a red W on your chest if you walk down the streets with one of these. The only alternatives I have seen so far are metal flasks of one sort or another. Now, these reusable metal flasks are chic, stylish and cool looking. However, they have a problem--where do you get the water you put in them? You surely would not just take it out of a tap!!! That is so 1980's. You want your water from a spring, or a filter or something like that. You want people to know you only drink water from a spring or filtered. Your recyclable metal flask does not make such a statement, in fact it makes the opposite statement. Horrors!!

The liquid paperboard packaging industry could come to the rescue here. Cleverly designed liquid packaging could allow you to still purchase water that comes from a clear mountain spring. The package has room for all sorts of graphics to let the world know you drink only spring water. It can be made recyclable and biodegradable; the tricky part is to get the waterproof coatings right. Then the consumer can be comforted in their choice of hydration, but more importantly, in the total image their hydration fluid social statement makes. Looks like an opportunity to me.

For safety this week, let us stay with the obvious theme of water. Too little, you dehydrate, too much you drown. Obvious and on the surface silly, but both conditions still happen all too frequently. Keep you relationship with water balanced.

Be safe and we will talk next week.