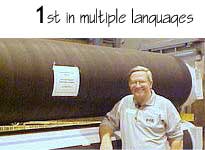 Week of 27 July 2009

Click here, then click "Trans lator" in top navigation bar for other languages.
Follow Nip Impressions on Twitter

It is so good to occasionally ignore the heat of battle and recognize one of our fellow toilers in the pulp and paper industry. This past Tuesday evening, July 21st, I had the privilege of doing just this.

Our sister publication, Capital Arguments, is providing an annual award to the Engineering Manager of the Year. As we put out the call last fall, a number of worthy nominations crossed our desk. One that caught our eye almost from the start was submitted by Kent Koerbitz, Director, Production Unit, UPM Blandin, Grand Rapids, Minnesota, USA. Kent nominated what turned out to be the 2008 recipient, Mr. Michael Ahcan, Senior Project Engineer. I caught Kent's enthusiasm the first time I talked to him.

When I called Mike back in the winter to tell him he was going to be the recipient, I promised him we would have an appropriate dinner, but that this Yankee turned Southerner was going to wait until summer to make the trek to northern Minnesota. This past Tuesday, the time finally arrived.

At the Wendigo Conference Center, on the outskirts of Grand Rapids, we gathered to celebrate the occasion. Mike had a choice of people to invite, and he chose to reach out to several co-workers and supervisors. But Mike did something special-he asked them to bring an offspring, which each did. High school or college age, these young people added greatly to a most pleasurable evening.

We can't say a whole lot about the project, but suffice it to say it involved the Mississippi River, which flows by the mill, a potentially leaky old effluent pipe, a full production schedule, and experts saying that replacing the pipe would take a full week of mill downtime, dead cold. Mike, challenged by Kent, got the job done without any downtime, without a drop of effluent going in the river. These are the kinds of projects that make great engineers.

Like we talked about a couple of weeks ago, when Nip Impressions for the week was titled "Think like a Farmer", one can note that such projects do not involve fancy calculation or exotic materials. They do involve a great deal of creativity.

So, congratulations, Mike, and congratulations, UPM Blandin. On Wednesday morning, I got the deluxe VIP mill tour. It is great to see a mill such as yours. A special thanks to Marsha Miller, from the mill's communications department, who came along to make sure this event was appropriately memorialized.

To round out the week, I had dinner last night with my friend George Mead, his wife Susan, and friends in Wisconsin Rapids (technically we didn't have dinner in Wisconsin Rapids, but close enough). What a pleasure. And then, while you are opening this today, I'll be visiting another colleague in Wisconsin that is fighting cancer. A bittersweet time, but overall a glorious week and a nice break.

For safety this week, we have reports of another fatality in another US mill last week. That makes two in just a couple of weeks. It is starting to seem like last summer here in the United States, in ways that we don't want to repeat. Please redouble your efforts to be safe.

Be safe and we will talk next week.