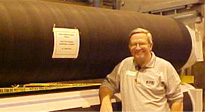 Week of 30 Jul 2007
There is a new bit of angst in our local neighborhood. Wal-Mart is talking about building a new store a mile or two from our house. You would think they were proposing a monument to Hitler. There are "Stop Wal-Mart" signs springing up with the rapidity and volume one would expect if Paris Hilton suddenly declared her candidacy for President of the US (don't worry; she is not old enough—yet).

My personal viewpoint is that Wal-Mart is the greatest purveyor of retail commodities to yet be created. However, they have obviously misstepped somewhere along the line, otherwise they would not generate the venom they do today.

My intent here, however, is not to argue or justify the good or bad of Wal-Mart, rather it is to point out for our benefit in the pulp and paper industry that Wal-Mart's enemies are proving cheap does not always sell. In many grades of pulp and paper, we think that low selling price is the only salvation for the business. And it is certainly true that it is a big piece of the action. However, other forces are obviously at work.

The highest margin players in the pulp and paper industry of which I am aware seem to devote a tremendous effort towards service. Whether it is making small, convenient and branded packages or hand-holding and expediting large orders, service sells and people are willing to pay for service, even when they say they are not.

Conversely, a cheap price with low quality service does not sell. If you are an unreliable supplier, it makes no difference to most purchasers if you are the cheapest provider in your grade. It is like the story of the gentlemen purchasing a refrigerator. He goes in one store and says, "Your price is $100 higher for exactly the same model than at Joe's Appliances down the street."

"Then why don't you buy it there?" is the logical sales person's response.

"Joe's out of them." So what is the point? In your case, you may not be out of what the customer wants, but if you can not deliver on time, you might as well be. If you are unreliable, you may cost them a fortune in delayed press time and so forth.

But back to the other side of the picture: what can you add to your service or customer care that can increase your margins? There must no doubt be some one or more things that you can do. Perhaps there are ideas you can transfer from other industries or venues. Perhaps there are retail ideas that you can bring to the business-to-business world that will cause your customers to develop a loyalty and willingness to pay beyond your imagination. The point is, your customers buy a lot more from you than just pulp or just paper. Your ability to recognize, burnish and polish these tag–along attributes may be the most important way to improve the financial health of your business.

One idea which I have mentioned before is to increase your participation and activity in your customers' safety programs as they relate to your products. It helps them out and just may reduce your liability if carefully crafted.

Be safe and we will talk next week.