[Adv.] 17th International Conference--Beijing, China
Published: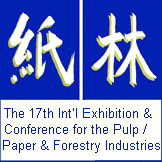 I wanted to take a couple of minutes to mention our partnership this year with the The 17th International Exhibition and Conference for the Pulp/Paper and Forestry Industries to be held in Beijing in September. Please note that the dates have changed to 16-18 Sept 09. If you do business in China, you won't want to miss this conference. Alternating between Beijing and Shanghai, I had the opportunity to attend several years ago and found it quite impressive.

If you have any questions or wish to find out more information, just click on the logo above or "More" below.

Jim

Riddles by Travis:

Answer to last week's riddle: 1/e. "The answer is about the same, no matter [the size of N] (It gets closer and closer to 1//e/ the larger N gets, and is already a very good approximation [at] 5. Source: Su, Francis E., et al. "Matching Problem." /Mudd Math Fun Facts/.

Last week's riddle asked: "Jim has 20 clients for whom he has written 20 reports. Thanks to a mail snafu, the 20 reports are sent to the 20 clients randomly. What is the probability that no client receives the correct report? Would the probability increase or decrease if there were more clients (and commensurate reports)?"

This week's riddle: Who starred in 3 films during the 1950's, underwritten by the Alfred P. Sloan Foundation, extolling the virtues of American capitalism?



Comment