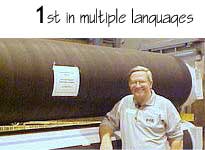 Week of 22 June 2009

Click here, then click "Trans lator" in top navigation bar for other languages.
Follow Nip Impressions on Twitter

I have heard it twice now--about graduates of two different universities, hundreds of miles apart. I have heard it over several years. What have I heard? That our universities are producing graduates that want to work in laboratories, not pulp and paper mills.

While I and other pundits bemoan our lack of research in this industry, the attitude described above is a problem on many levels.

First, and having the most direct affect on the universities, is the industry executive who essentially told me (not a direct quote), "If they aren't going to turn out graduates to work in our operations, I don't see why we would continue to support them." Ouch. However, the statement makes perfectly good sense from this now former donor's point of view.

Secondly, we look to university graduates to be mill operators. If the mills are not able to hire graduates with the training and disposition to be mill operators, this is going to be a long term large problem for the industry.

Third, the industry's suppliers, from which the industry continues to seek more and more technology, need people with a career path something like this: (1) university, (2) operations, and then (3) supplier.

What to do? I would suggest we start out telling entering students that successful career paths most likely include a stint in production. The idea of working in production needs to be lifted up, given an esprit de corps aura. I suspect many want to avoid the hot, sweaty and noisy environment of production. What needs to be emphasized is scientific matters in the real world (production) aren't as neat and orderly as in the laboratory and offer more brain-stimulating challenges.

Women and minorities need to understand today's mill is vastly different than the rough and tumble white male dominated world of just a couple of decades ago. I know our college curriculums are already packed with courses, but we need a few management courses in the mix so students begin to understand the management side of their future career.

We need to look at what is done elsewhere to draw university graduates into production. The steel industry would be a good place to start--their production environment is much like ours, only hotter. The military is another place to look. What motivating factors, other than patriotism and a sense of history (very important ones, indeed), draw applicants to military academies? They can certainly count on their first job out of school likely being out in nature; with the added "benefit" they may even be shot. Yet, I have never heard of the military academies experiencing a student shortage.

We are on the cusp of a serious problem here--if our schools are not turning out students which want to work in our mills, a serious disconnect exist between the donors and the industry needs. The first thing to disappear will be the donors, but in the long term, the industry will suffer.

For safety this week, there was a serious accident with fatalities recently in a food processing plant in North Carolina, USA. It is worth noting for we may have the same conditions. Apparently a natural gas leak led to natural gas being pulled into a vacuum system and then exhausted. A spark then set off a huge explosion. When anyone smells gas, it is time to take action now.

Be safe and we will talk next week.