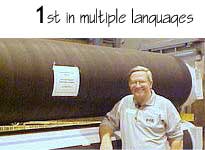 Week of 8 June 2009

Click here, then click "Trans lator" in top navigation bar for other languages.
Follow Nip Impressions on Twitter

Monday I was in St. Louis, talking to a group of paper machine specialists about the most important machine--the invoice printer. I spent quite a bit of time with this group stressing why specialists of any kind should be interested in the business (invoices) of their company (more below).

Tuesday evening found us in Nashville, on the porch of good friends having a delightful dinner outdoors in marvelous evening weather. The conversation turned to financing, a subject this friend and I have discovered we share much common despite him being an executive in the music industry. We found a mutual interest here several years ago in the go go days of private equity when a company I was helping decide whether or not to buy a paper company came along and considered buying his employer in the music industry. Hey--paper or plastic (CD's)--same thing, eh?

Tuesday evening he related a recent refinancing by a major record label. It happened just a few weeks ago. First, analysts for one of the largest Wall Street banks juiced the stock, moving it from a hold to a buy. Our executive friend said people in his industry were scratching their heads asking "What changed?" It soon became clear--this bank did a large refinance for the music company within a couple of weeks. In other words, nothing had changed--it was all about selling the deal.

The amazing thing this shows is the banks (at least this one) have not learned the lessons of the last nine months of financial upheaval--they are still up to their old tricks. Coincidentally, a couple of weeks ago, I met a retired banker that had worked on a major financing in our industry in the late 1980's. We were talking about the bonuses bankers earn today. He asked me if I had any idea what he had earned on that large deal as the lead banking professional for the lead bank. I bit and said, "How much?" His answer: $2,500 which was an unprecedented and large amount for that time.

Many companies in many industries, including, of course, ours, are burdened with financings that should not have been done and which were loaded with extraordinarily large overhead expenses. From the above recent example in the music industry, apparently these appalling techniques continue to this day.

Enough of that--it is largely out of control of the readers of Nip Impressions. I'll end with a couple of things I said to the St. Louis crowd about spinning the invoice printer. First, I acknowledged that they were a collection of specialists, typically far away from the invoice printer. However, I told them, you are not in some vast social protective net where your job goes on no matter what--in fact, if you have been paying attention at all, you already know this. You are more like the crew in the engine room of an old ship--you may seldom see daylight, but you are highly interested in what is going on on the bridge. The exogenous opportunities and threats are of great importance to your long term career well being.

And then I really got their attention. I told them that if I were in charge of a mill and was order to cut staff, my criteria would be this: what is the unique link between each professional staff member and the invoice printer? If I can't find one, I am afraid I would have to tell you you have to go.

We all know our links to safety. Or at least we should. If you do not, ask about them in your next safety meeting.


Be safe and we will talk next week.