[Adv.] Edge
Published: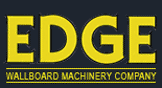 This week, we want to remind you of our fine friends at Edge Wallboard Machinery Company. In business since 1956, the words "Wallboard Machinery" in their name at first described all they did. Soon, however, their fine reputation caused papermakers in need of superior components value-priced to seek them out. The rest, as they say, is history.

Contact Edge to learn more about their ability to fill your needs for paper machine components. And when you talk to Edge, tell them you saw them on Nip Impressions.

Jim

Answer to last week's riddle: Iola, Kansas; Joe Hardy's girlfriend Iola (Joe was the younger Hardy Boy).

Last week's riddle asked: "Same name: A city in Kansas celebrating a sesquicentennial and the girlfriend of a famous young (fictional) detective whose investigative partner is his older brother."

This week's riddle: "Pay attention to the liquid refreshment before you" is a longhand way of saying what common phrase?




Comment