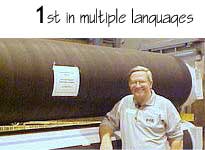 Week of 18 May 2009

Click here, then click "Trans lator" in top navigation bar for other languages.
Follow Nip Impressions on Twitter

The current auto manufacturing dilemma in the United States--the bankruptcy of Chrysler and the potential bankruptcy of General Motors--on one level leaves me bemused. For the perceived unspoken "tragedy" here is that people will lose their jobs and, one level deeper, this will "force" them to move somewhere else for a new job. Folks, there are many things worse in life than having to move.

I have always looked at moving as an adventure. Moving was a unique American entrepreneurial trait until recently. In fact, in Alexis de Tocqueville's review of America in the 1830's, he marveled that pioneer farmers would work like dogs to clear forty acres of land, and then in a few years, pull up roots and relocate further west, doing it all over again. That is the spirit that built America. I think we have, sadly, lost it.

Personally, I have lived at 13 different addresses on two continents, and I think I have been the better for it. My daughter went to primary and secondary school in 9 different places and seems to have done just fine. She has lived at 11 different addresses on two continents, but she is 28 years younger than me and has time to catch up.

In general, though, we have become a nation as fearful of moving as old line Western Europeans. This is to our detriment, especially in our industry.

I view the willingness to change and adapt in business on a scale of 5 attributes as follows:

1. Highly creative to the point of recklessness
2. Measured creativity coupled with reasoned pragmatism
3. Opportunistic
4. Cautious
5. Status quo

Businesses that are dynamic can be as high as a 1 (remember the dotcom boom? The survivors were 1s that failed to fail). Mature and shrinking business can be as low as a 5. 1s, 2s, and 3s may take risks that cause a business to be upset or even fail. 4s and 5s will surely fail in the long term for they will not adapt to changing conditions over time.

There are many pulp and paper mills that operate as 4s or 5s. A primary reason for this is what some of you will call my gross generalization of the week: the spouses and teenage children of the management at these mills. What is the connection? Many mills are in small towns or completely rural settings. The young professional graduates from college, is hired by a mill in an isolated area, marries and has kids. By the time they are in a position of influential management, the spouse is connected through a job and social linkages and the kids are in high school. The manager is positively reinforced at home to keep things status quo and negatively penalized at home if the idea of moving is ever broached.

This pressure at home to keep the status quo is taken to work. It is never verbalized at work, but is manifest in the lack of action. The manager can't bring his or her self to do anything for the business that might jeopardize the stable conditions at home. So they operate at a 4 or 5 level, for 4s and 5s take years to work their way through to inevitably bad conclusions. If you make a mistake leading to a poor result in a 1, 2 or 3 posture, the effects will be immediate and personal. "Keep things the way they are until I retire," the manager thinks. We have an industry filled with facilities that have been four or fived to near death.

This has not happened so prevalently in other industries, such as electronics (a relatively new one) or machine tools (a very old one). The US still has vibrant manufacturers in these, although both of them have their fair share of foreign ownership on US soil. Why? Because these industries tend to cluster together in urban areas. If you work as a manager in an electronics firm in Silicon Valley, and you lose your job, you just walk across the street. The family does not have to move or change their lifestyle. Years ago, cities like Cincinnati were full of old line US machine tool companies. There are still many machine tool companies within commuting distance of Cincinnati (Florence Industrial Park, Florence, Kentucky), they just happen to be Japanese. Again, though, the family's life has not been impacted by a move.

The traditional pulp and paper industry has often been the only game in town. If one loses their job at the mill, they are moving. And since rural living is often lower cost than urban living, a move towards an urban area without a very large increase in salary not only means the family is uprooted, their lifestyle is going to diminish, at least for a while, as their cost of living goes up. Large incentives to keep things the status quo--let the next generation take care of them.

Multiply this by many mills in many places, and we have not only been remiss in keeping our manufacturing processes current, we have been equally negligent in creating products to compete with those from other fields (such as plastics). We do have some bright areas--corrugated containers being the most outstanding example of innovation and hard work keeping the competition under control. But overall, we have done a dismal job, especially in the area of communications papers.

It is time for us to move to at least a 3 and in some cases, a 2.

For safety this week, your author did the dumbest thing last Friday morning. Not only did I have a personal accident, I had it while returning home from giving a talk on safety! Read more in "Jim's upcoming travels" (below) under "Road Notes." This is the most embarrassing thing I have done in a long time.

Be safe and we will talk next week.