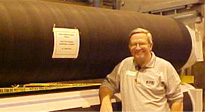 Week of 23 Jul 2007
If one visits a city such as New York, they are immediately struck by what a poor location for a city this is. To get to Manhattan, for instance, one must use a boat, bridge, tunnel or helicopter (there is also a cable car over the East River). However, if one rolls back time to when the easiest form of transportation was boat or ship, one can see why, in those days, the founders decided it was an ideal location. We can assuredly say, today, though, that no one would choose the location of New York for New York.

In much the same way, the concept of an office developed. The office served several purposes: (1) a place to organize the physical matters of running a business, doing research and so forth, (2) a place to receive visitors from the outside world, and (3) a grouping of people working on the same project (such as running a business) for ease of interchange and dialog.

Since the 1840's, starting with the telegraph, the institution of the office has been under attack. In the last dozen years or so, with the advent of the Internet and all sorts of handy software tools, this attack has become an all out war.

Much like New York City, if technology had developed in a reverse fashion, i.e., the Internet first before the creation of the office, it is most likely the office would never have developed, at least not to the level it is today. We cling to the office for its historical cultural significance, not out of modern-day utility.

If we start with the second paragraph above, and take a clean slate approach, look what happens. As to item 1, a place to organize the physical matters of running a business, doing research and so forth, in the modern world ones needs only a desk, or perhaps even only their lap, on which to place their computer. Nothing else is required.

As to item 2, a place to receive visitors from the outside world, these become fewer and fewer with each passing year (except as noted below). One just does not have to physically show up at another's office in order to have a meeting.

And then for item 3, this is completely obsolete. As an example, five of us here at my little company are involved in publishing each issue of our sister publication, PaperMoney®. One lives about a 45 minute drive north of where I am sitting, two live about an hour and 15 minute drive south of where I am sitting and the last one lives about 500 miles southwest of here. We seldom physically see each other, and by seldom I mean perhaps once or twice per year. Yet each issue of PaperMoney® goes out on time, like clockwork, the first and third Tuesdays of each month, because we each know what we have to do, when we have to do it and have high quality standards (a recent Gallup poll says 58% of office workers do not know what is expected of them!).

One does need a physical office if one is involved in doing physical things, such as operating a paper mill, managing a research laboratory and other similar activities. However, our culture has made that office more complicated and inefficient than necessary in today's world. Why is this so? There are many people who have become comfortable operating in the office environment. Additionally, many of these have become skilled at manipulating people in the office environment and are not about to give this up without a fight. One of the greatest inefficiencies of the office environment is that it obfuscates one's personal productivity. We subconsciously observe fellow workers showing up and equate presence (especially on time presence) with productivity and efficiency. Nothing could be further from the truth and slackers know this. Go back to my example of publishing PaperMoney®--we communicate by email. Everything needs to be to our publisher by roughly the Friday before an issue goes out on Tuesday. We all copy each other on our emails sending our personal deliverables to our publisher. This is our indicator of productivity. It is simple and transparent. It has nothing to do with physically showing up anywhere.

In reality, in a modern paper mill, we have little need to receive visitors from the outside world—the office building, especially the office building set out away from the production facilities (a dear friend of mine has spent the last 15 years tearing down these monuments to elitism) is virtually worthless and in most cases represents a large and unnecessary cost. The only visitors that we may need to receive are governmental environmental and safety regulators, and they can be handled in a spacious and comfortable guard house.

However, here comes my "see below" from above. In my experience, the one department in particular which resists the destruction of the office is purchasing. In many mills, purchasing is royalty and needs an appropriate throne room in order to receive their subjects. This is obsolete thinking. The hidden costs of forcing suppliers' sales people to physically show up and bow down to purchasing kings is huge. Mills pay for this, but do not see the costs. The physical appearance of a supplier's sales person at your mill four to six times per year is probably approaching a cost of $4,000. If you have 200 suppliers (a modest number in a modern mill), do the math and you will find this cost is $800,000 per year. You may try to fool yourself and think you are not paying this, but you most certainly are, for it is built into the price of everything you buy. This is just one specific example of the costs of the obsolete office. The officeless office is just around the corner—those who jump on it first will seize a competitive advantage.

For safety this week, think of how few office accidents one can have if the office does not exist. File cabinets tipping on to one's toes should be completely obsolete, unless you are keeping these ancient relics in your office for some historical reason (my files are backed up and stored automatically each night in three locations spread around the country).

Be safe and we will talk next week.