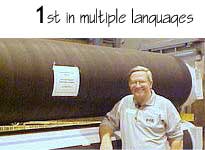 Week of 4 May 2009

Click here, then click "Trans lator" in top navigation bar for other languages.
Follow Nip Impressions on Twitter

If you talk to an automobile or computer enthusiast, you'll hear them wax on indefinitely about certain features and minute details of the obsession of their choice. I think I know a little about these subjects, but when I get around a real enthusiast, I see how little I really understand.

If you are a mill manager or a department manager, it is your responsibility to be an obsessed enthusiast about the domain within your responsibility. A pop quiz any day in your morning meeting should yield, without notes, answers such as digester capacity, paper machine top speed, refiner hp tons per day (if in the US, metric elsewhere) capacity for each cleaner bank and so forth. You and your team need be so enthusiastic that these figures accurately trip off the tongue without thinking. If you don't know them, you are a sleep walking manager, most likely. If you are really good, you will know the balance speed of all major rotating machinery, too.

Some think of management by the classical definition, "allocation of scare resources." Others see it as purely a people motivational exercise. Both are valid but incomplete looks at the complexity of operating a mill. I once knew a manager who thought it was a badge of honor that he knew nothing technical about his area of responsibility!

The only thing fixed about your operation is the equipment and process systems (tankage, piping, controls) that link it all together. The people involved are either there to operate it or maintain it. A very large portion of your job as a manager is to optimize the use of this equipment and these process systems. How can you possibly do this if you do not know what their individual capabilities are? Can you draw accurate flow diagrams of your mill, noting and labeling the capacities of the process equipment, without reference to any documents? Your best competitors can. They know their mills, and know them inside and out. You and your direct reports should know this for all portions of the operation for which you are responsible.

If you don't know this information, where do you start? Well, you start by gathering P & ID's (Process & Instrument Diagrams), operating manuals, operating training software and anything else you might have. Break your direct reports into departments (or smaller units if you are a department head) and go to school on this stuff. Now, classroom time is good (and essential), but it is no substitute for wandering out in the operation and putting your hands on everything. You have to see it physically in your mind in order for it to stick.

Set a time table--ten weeks is reasonable--to learn all this information. And that is ten weeks no matter what happens, catastrophes, unscheduled downtime and all. No excuses--you all have it committed to memory in ten weeks. Have some fun with this--have pop quizzes in your morning meetings--and don't ask all the questions yourself--let others do this, too. When do the pop quizzes start?--right away. When do they end?--never.

If you have been experiencing poor operations, wild swings and unscheduled downtime, adopting this approach is one of the strongest steps you can take to move things to a higher plane of performance. Don't delay, start today.

We make sure we know all we can about safety issues. Take that attitude to your operations and you will not only run better, but reinforce safety, too.

Be safe and we will talk next week.