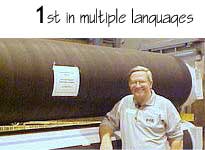 Week of 27 Apr 2009

Click here, then click "Trans lator" in top navigation bar for other languages.
Follow Nip Impressions on Twitter

Last Thursday, April 16th, General Growth Properties Inc. filed for bankruptcy. Never heard of them? I hadn't either, but as I drove from Bethlehem, Pennsylvania to Archdale, North Carolina, that seemed to be all the business channels on my satellite radio were talking about.

Also, last Thursday, April 16th, AbitibiBowater filed for bankruptcy (a long expected outcome). If that was covered anywhere on the news, I missed it. I could not even find it in the Friday "USA Today" delivered to my hotel room. The "USA Today" led off the front page with John Madden (whoever he is) retiring and had two articles in the business section on the aforementioned General Growth Properties. Not a word about what the "USA Today" depends on to deliver the news.

Several months ago Smurfit Stone filed for bankruptcy, experiencing the same level of silence from the general media. That one was not so surprising--people in general give little thought to packaging of any kind--they just use it.

As the auto industry in the US continues its downward spiral, I am bemused about the general wailing concerning the loss of jobs in that sector. Our industry has been losing jobs for years, many jobs. Hypothetically, would you rather be an unemployed skilled auto worker in Saint Louis, Missouri or an unemployed skilled paper maker in Bastrop, Louisiana? I think the unemployed skilled auto worker has a much better chance of landing a job without moving, an activity apparently an anathema to many people.

I have long stated that I don't believe the solution to our problems lies in transforming old plant sites into something else--the burden of carrying the inefficiencies of the old sites will quickly doom anything else placed there. I do believe in innovation as our way out, but it is innovation starting with a clean slate (just like the steel industry experienced). I mentioned a way to innovate the newsprint manufacturing industry here just a few weeks ago. Ironically, on April 15th, I was at Northampton Community College in Bethlehem, Pennsylvania, at an open house for the Coating and Ink Research Institute. This facility is located in, you guessed it, an old administration building on the defunct Bethlehem Steel Works site. Phoenix rising from the ashes--but a different phoenix than the one that died.

What the AbitibiBowater bankruptcy teaches us is that we have done an extraordinarily poor job of educating the public as to our relevance. We actually knew this already; this developing situation was merely an affirmation. Our relevance to the general public is only in a negative light--they hear about us only in stories framed by those who believe we should be destroyed--we have abdicated our story to our enemies. For instance, this past Friday afternoon, Bloomberg Radio carried a story about how the pulp and paper industry is slipping through a loophole and collecting a renewable energy credit on black liquor, one the story stated as obviously undeserving by the industry. The only credit they gave us as an industry was being fiduciarily responsible, a concept that would be completely lost on the general public. This story was also carried in the New York Times on Saturday.

Our attempts have been singularly dismal among all industries in controlling the public and policy dialogue about the future of our business. Other industries, using non-renewable resources, have done a much, much better job of taking the brush in hand and painting a good picture of themselves--plastics being the most notable example. TAPPI made an attempt, depleting their coffers in the process, of projecting a good image of our industry with a long-running exhibit at Epcot in Orlando, Florida. Disney staffers reported that it was a very popular exhibit. Yet TAPPI could barely raise any specific directed industry support.

Now, the pragmatic side of me says when your own house is on fire, it is probably not a good time to be innovating, either in actual products or public image. Our house has been figuratively on fire, in the communications papers area, for a long time. Yet with what we have left, we need to collectively assess where we go, examining our strengths and weaknesses. I would suggest such an examination needs new blood, new organization and a clean slate bereft of anyone with an agenda to preserve what we had in the past. Peter Drucker once famously asked Jack Welch, then CEO of General Electric, "If you were not in the businesses you are in today, would you get in them?" This is a particularly good question for the communications papers businesses of today. For the sake of profitability and society, I hope we get on with answering it and the obvious concomitant follow-up questions soon. It is long after the time to be "whistling past the graveyard."

As an aside, a couple of recent columns have stirred up the readership. Please go to the letters column below for an enjoyable read. I encourage you to read it in its entirety.

In the northern hemisphere, spring is here. As you go out to mow grass and other such activities not done in a while, remember safety. Review the safety concepts need to operate spring and summer power tools. We need you at work more than ever before.

Be safe and we will talk next week.