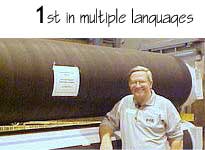 Week of 13 Apr 2009

Click here, then click "Trans lator" in top navigation bar for other languages.
Follow Nip Impressions on Twitter

My derisive comments about certain recycling efforts have apparently led some to think I am opposed to the idea. This is not true. What I am opposed to is stupid or hysterical recycling efforts--hence the term irrecyclaphobia, the fear of not recycling.

When I was a teenager back on the farm, we recycled everything for it was the only way to make ends meet. It was not emotional--it was driven by pure economics. True story: we owned a "1 1/2 Ton" 1953 GMC Truck. Sometimes such trucks are called "bob trucks." They are bigger than pickups, but are not semis (lorries to Europeans). This one had a twelve foot long bed and would hold about 200 bushels of grain. One fall night, dad was driving it from one of our farms to another, loaded down with soybeans he had just harvested. Coming up a long hill, he twisted off the crankshaft, destroying the engine. What to do?

We found in the classifieds in the paper, a 1952 Chevrolet pickup, beat up but running, for which the owner wanted $80. This was cheap, even in those days. Since Chevys and GMC's had essentially the same drive train, we pulled the engine out of the pickup and put it in the big truck--it took one afternoon. But this is not the end of the story. We had a trailer with a rotten wooden bed. I took the bed off the pickup and put it on the trailer frame. Then I stripped everything else off the pickup frame, built a wagon bed out of lumber from a house we were tearing down and put it on the running gear. With a little welding, a hitch was added and steering was converted to wagon style. We had a new wagon. I took the old cab and fenders off the pickup and put them in a ditch where we were experiencing erosion in the pasture--an approved way to handle erosion in those days. Look what we did with a worn out pickup that cost only $80.00--now that is smart recycling. We did not call it recycling--it was just so obviously the right things to do. By the way, when I would get done working on this project each day, I would clean my greasy hands with the approved solvent used by all mechanics in those days, gasoline (with lead in it, of course). Maybe that's why freshman calculus was so tough!

A few weeks ago I was sitting in the parking lot at our local post office while Laura went inside to mail a package. I was there about 10 minutes. In one corner of the post office parking lot are recycling containers for phone books, magazines and other such things that are not picked up with our trash. While I sat there, just a random 10 minutes on a random day, four people drove on the lot, did not go to the post office, but stopped at the recycling bins to deposit what could not have been more than 5 pounds total of recyclables. Who knows how far they drove, but the CO2 emissions from their cars surely negated anything they did by recycling these paltry items. This is dumb recycling.

A number of years ago, when I had a fairly large office, we were working on a recycling project. We engaged a specialist from out of town to help us. When I took her back to the airport to catch her flight home, she chided me for not having recycling bins in our office. I shot back, "drug dealers don't use drugs themselves." She was not happy. That is also no doubt an example of how I convey the wrong message.

The problem as I see it today, is we as human beings cannot have a civilized conversation on recycling (and several other environmental subjects--one of which we will cover next week). For example, had I wandered over to the recycling bins at the post office and tried to have a reasoned conversation with these people about the overall, big picture effect of what they were doing, I'll bet they would have bitten my head off. I imagine I would have been accused of being a heartless fool, not interested in saving the planet.

I must admit, I don't know how we begin to start having reasoned conversations with real, big picture answers in today's world.

If one looks back to World War II in America, one finds a practical, full-blown effort towards recycling. Everything was recycled. One reason, in fact, that old farm machinery, especially tractors and steam engines, are so rare today is that they were melted for scrap to make Liberty Ships in World War II. One can find pictures of school yards in small towns across America in those days piled high with old farm equipment, ready to be loaded on to train cars for the trip to the steel mill.

Recycling in those times had a defined, tangible purpose. Recycling today, being a bit ethereal in its aims leaves the individual with no concrete purpose, and hence, I believe, a lack of practical understanding of what they are doing. Some may want to leave it nebulous like this. Personally, I think the entire process would be better served, and perhaps have an even better outcome for the planet, were it more practically oriented. It remains to be seen if this can ever be accomplished.

Of course, safety is not nebulous. We know if we are injury free or not. We achieve excellent safety records only by being focused on the practical.

Be safe and we will talk next week.