[Adv.] Essco
Published: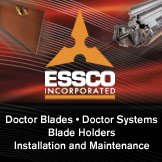 We want to give Essco a hearty welcome today. You will see them come and go several times throughout the balance of the year (they have designed a very clever advertising package).

Essco traces its history back to 1939, when it began as an engineering, sales and service company. In 1969, Essco began manufacturing a complete line of doctor equipment, doctor blades and accessories. Essco's history of customer service and satisfaction -- along with a willingness to listen to customer needs -- has helped the company become an industry leader, known for durable products and consistently high performance in the most demanding environments. Essco products are manufactured in Green Bay, Wisconsin, USA, using modern, efficient facilities that complement the precision nature of their products. Essco products help mills and manufacturers produce their own products more efficiently. Essco's high-quality blades, innovative blade holders and systems will keep the payback coming for years down the road, through less downtime and fewer maintenance interruptions. It's this commitment to innovation that has made Essco the trusted partner for mills worldwide.

Check Essco out today, and, tell them you saw them on Nip Impressions.

Thanks,

Jim


Answer to last week's riddle: Syzygy, which refers to a condition when 3 celestial bodies are positioned in a straight line, as in during an eclipse.

Last week's riddle asked: "Unscramble the following letters to form a single word: yyyzgs"

This week's riddle: What's larger, the number of possible ways to fill out an NCAA tournament bracket (including the play-in game) or the national debt of the U.S. rounded to the nearest trillion?

For those of you not in the USA, the NCAA tournament bracket refers to the current (seasonal) mania here in the USA where college men's basketball decides the championship for the year. Our president, Mr. Obama, not only found time to do this, he mentioned it in his joint press conference with Mr. Brown in London this week--it is considered quite serious business here.



Comment