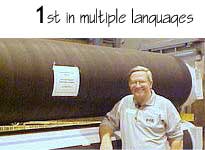 Week of 6 Apr 2009

Click here, then click "Trans lator" in top navigation bar for other languages.
Follow Nip Impressions on Twitter

Twenty years ago, I remember being introduced to ISO 9000. We were sitting in the customer lounge (bar) at Jaakko Poyry's North American Headquarters, entertaining our Finnish executives. They brought it up, we had never heard of it. We laughed at such an idea. A number of years later, a CEO in the North American pulp and paper industry posed this question to me: "So, if we go to the expense of doing this ISO 9000 thing and a customer rejects a couple of truckloads of our product, does that mean they have to keep it and pay us for it anyway?" I thought his question got to the crux of the matter.

Well, hold on to your hats, for here comes "ISO 26000: Standard for Corporate Social Responsibility", scheduled to be promulgated in 2010. By the way, I have seen several names for this standard--I think the one I have given is the official one, but I am not sure.

The ISO organization has chosen the Swedish Standards Institute and the Brazilian Association of Technical Standards "to provide joint leadership of the ISO Working Group on Social Responsibility."

ISO stresses that this is a "guidance standard" and will be "voluntary to use." Granpa Jim thinks this is disingenuous. ISO has trained the average citizen of the world to expect companies to be certified to ISO standards. There are already websites promoting services to certify your company's compliance with ISO 26000. In reality, without certification, companies will adopt a tag line such as "we comply with ISO 26000" and the general pubic won't catch the subtle difference between being "certified" and "we comply."

The confusion, and costs, will go beyond that. For instance, if you make copy paper and your competitor starts slapping "we comply with ISO 26000" on their copy paper packages (and it looks to me like nothing will stop them if there is no certification program), your sales and marketing department will tell your management that your company must do this, too.

Then the fun really starts. For if you hire an employee later terminated who can find some obscure phrase in ISO 26000 they think will make a good case for wrongful termination, you have a lawsuit on your hand. Or, if lawyers trolling for the next asbestos goldmine can find you killed a snail somewhere, you will probably be slapped with a class action lawsuit from everyone who ever bought your copy paper (or at least bought it since you slapped "we comply with ISO 26000" on it).

So what is going to be in this document? I have provided a link here to a document that is somewhat explanatory--it is at "More" at the bottom of this article. From what one can discern from this, it appears to relate significantly to employer practices as they concern employees. It also will have a significant section on "sustainability" (as you know, one of my favorite words, right up there with "green"). You can google ISO 26000 and find more information than you can ever possibly absorb.

We talk about safety every week for a reason--it is important to your well being and it is important to your company's bottom line. We have talked about it for a long time and we will be talking about it long after ISO 26000 is promulgated (assuming I am alive and kicking).

Be safe and we will talk next week.