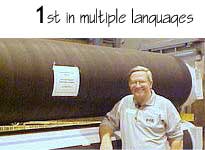 Week of 30 Mar 2009

Click here, then click "Trans lator" in top navigation bar for other languages.
Follow Nip Impressions on Twitter

Fifteen or sixteen years ago, near the beginning of the Age of Irrecyclaphobia (Irrecyclaphobia--the fear of not recycling), I was running around suggesting that we build micro paper machines, as complete factory delivered units, that could be placed in the utilities area of large office buildings to recycle office copy paper and the like. That idea never caught on for many reasons.

However, another idea of miniaturization caught on and was very successful. If you have ever been to the Royal Observatory in Greenwich, England, you will see the work of John Harrison. In 1714, Parliament offered a £20,000 reward for the first person to build a clock that could be used at sea. Such a clock was needed in order to determine a ship's longitudinal position. Up to that point in time, all clocks were stationary on land and worked with a gravity pendulum. A clock on a ship, however, needed a balanced pendulum able to ignore the effects of a rolling ship. Harrison took up the challenge, with models dubbed H1 through H4. H1 through H3 looked like small versions of long case clocks. H4, however, looked like a modern day pocket watch. H4 met the challenge, in fact a copy of H4 was used by Captain Cook in his three year circumnavigation of the globe. The prize? Of course, the government reneged on their clean terms and made Harrison, now 80 years old, go through all sorts of gyrations in order to receive only part of the promised £20,000.

We can make a micro paper machine. By micro in this column, I mean one of modular design and of capacity to only keep up with one modern high speed newspaper printing press.

Now, some pundits wiser than me have suggested that the last person to read a printed newspaper has already been born. For the purposes of this column, we'll assume that to be true without argument. This leaves us with a potential viable 50 year market window--large enough to be an interesting business.

Others are running around our industry promoting all sorts of schemes to save obsolete mill facilities. These will fail, for unless one is in the museum business, preserving nostalgia is not a winning business strategy (one need look no further than the United States' long-haul passenger rail service, Amtrak, in order to see what an economic failure a nostalgic-based business plan can be).

Where I think newsprint as a grade (specifically not as an existing mill site) can succeed is through a resurrection of my old idea of micro paper machines. For if a micro newsprint machine were built at each of the large printing plants now operated by newspapers, a number of savings could be realized:

1. Low capital costs. Factory built and wired in seven to ten sections that fit on lowboy trailers for delivery, an entire production unit from pulper through reel and winder could become very inexpensive to build and install. Printing presses are built like this, and so are some other process machines. Micro paper machines could be, too.

2. Low operating overhead. Papermachines are now being monitored (and sometimes controlled) at great physical distances from the actual operations. With this scheme, expert operators in a central control room could operate many micro newsprint machines located anywhere in the world. Only low-skilled tenders would be needed at the actual machine site (with the exception, perhaps, of the winding operation which would require higher skilled operators).

3. Low maintenance costs. Built in modular fashion with monitoring sensors for nearly every function, a regional maintenance facility could pull units (defined portions of the micro machine) needing maintenance (replacing them with refurbished units) and do all maintenance in a central shop. Press sections could be pulled for roll changes and felt changes. Forming sections could be pulled for wire changes. So forth and so on. Downtime would be minimized, for the truck that takes away the section for refurbishment would have brought a ready-to-run replacement and slipped it into place in about ten minutes.

4. Low recycling costs. Bringing the recycled paper directly back to the facility containing both printing and papermaking greatly reduces the transportation component of the recycled fiber and the finished newsprint-there should be no empty trucks coming or going.

5. Easy financing. Units that bolt to the floor, not built into the building, are hence portable and looked on much more favorably by financiers (in event of default, their collateral can be easily salvaged and sold elsewhere).

This entire scheme, of course, takes a whole new way of thinking and an entrepreneurially based financial entity willing to take risks. Yet, it is doable, and if successful, would extend the life of newsprint, again, perhaps another half century.

Bits and pieces of this idea successfully work already. I previously mentioned operations from a remote site--I have seen this in a number of places in a number of grades. The machinery manufacturers are already building small (not micro) tissue machines in a "cookie cutter" fashion. These fabrication ideas need to be taken to one or two steps smaller. Large printing plants already print several newspapers per day on a contract basis. Essentially they are kept running 24/7 now. It is just not that big of a leap to get to this new scenario which should be able to maintain economic viability for newsprint for some decades to come.

Of course, regardless of the size of our facilities, one factor looms large: good safety practices. Always operate and think in a safe manner.

Be safe and we will talk next week.