[Adv.] 17th International Conference--Beijing, China
Published: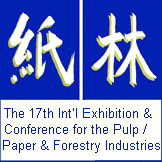 I wanted to take a couple of minutes to mention our partnership this year with the The 17th International Exhibition and Conference for the Pulp/Paper and Forestry Industries to be held in Beijing in September. Please note that the dates have changed to 16-18 Sept 09. If you do business in China, you won't want to miss this conference. Alternating between Beijing and Shanghai, I had the opportunity to attend several years ago and found it quite impressive.

If you have any questions or wish to find out more information, just click on the logo above or "More" below.

Jim

Answer to last week's riddle: Iceland's parliament - The Althing - the world's first.

Last week's riddle asked: "Remove one letter from the phrase "The All Thing," combine the remaining letters into two words (without switching any order) and come up with an institution of political/historic importance."

This week's riddle: Why were the Romans perplexed by algebra (hint: this is a joke)?


Comment