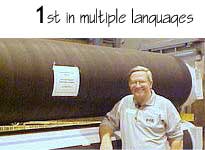 Week of 23 Mar 2009

Click here, then click "Trans lator" in top navigation bar for other languages.


The AF & PA (American Forest & Paper Association) February Printing & Writing Shipment numbers are out and they continue to be grim. Year-over-year numbers in coated freesheet, LWC, uncoated freesheet and uncoated mechanical have averaged monthly drops of close to 25% for each grade and each month starting last November. The brightest spot amongst the bunch is uncoated freesheet, essentially copy paper.

I have written many articles preparing you for this eventuality (several are cited at the end of this column). I personally don't expect any of these grades to recover significantly in the long term in the United States (some places, such as China, will experience a growing market for some time to come because of ultra low per capita consumption).

The question is, what do you do now if you find yourself in a place where such declines are occurring?

First, let us briefly talk about your professional responsibility to your employer. Of course, the first thing you must do is do everything within your capabilities and area of responsibility to help your employer return to an acceptable level of profitability (assuming they are not there). We have a wide audience, so, of course, it goes without saying that you must respond to this within your area of expertise. What is important to note is that doing more of the same is not going to be a path to success--it will take innovative thinking and doing of a level you have probably never considered in the past. At the highest level you are trying to spin the invoice printer faster and slow the checkwriter. It is an all hands on deck situation now, and negative thoughts, attitudes and spoken words are not acceptable. Some mills are not going to survive, but until the day you receive your last paycheck you must project a positive attitude and give it your all.

Second, it is time to compartmentalize a bit and watch out for your self and your family, too. The first thing you need to do here is assess for yourself the likelihood of your mill's short term and long term success. No matter your position, you can assess these clues, for you are likely seeing all the data. Observe these matters:

1. Does your mill make an excessive amount of trim rolls? This could be due to your paper machine(s) age being such that their width(s) no longer match modern printing presses. This will kill your mill sooner or later--you can not keep up with mills that sell most of their production as first quality.
2. Has your warehouse recently filled to capacity and seems to not be coming down? Is there an unusually large amount of production being made that is not for specific orders?
3. Have rejects from customers risen to new heights?
4. Are suppliers balking at making routine shipments to your facility? Do they want payment in advance?
5. Does it appear management is cutting staff beyond the meat? What is happening to shift supervisors, maintenance leaders and so forth? It is one thing to cut administrative staff, but it is quite another to cut those that get the job done every day.

Any of these matters, and, indeed any peculiar behavior, may indicate something is going on, and that something is not a positive.

So, what do you do personally? If you have carefully assessed the situation and determined it is likely your mill is going down, it is definitely time to have your resume in shape and start to quietly shop it around. It is also time to prepare your family and adjust them to the idea that you may be moving--be careful here, you don't want your children running off to school and talking out of turn about this, it may get back to the mill.

(Caution: the following is a suggestion, get some additional advice, think things through and don't do anything rash). Now, this is the really serious stuff--you may want to put your house up for sale. For if you are in a rural mill area and the mill goes down, you know what is going to happen to real estate prices. Unless you have a compelling reason to stay in the community, with or without a job, with or without the mill operating, you will find no better time to unload your real estate than now, hopefully some time yet before the mill closes. Even though real estate in general has been depressed for a long period now, you won't believe how depressed it will be if your local rural mill goes out of business. If you don't believe me, go to http://www.zillow.com and look up Millinocket, ME; Niagara, WI; or Bastrop, LA (in the Bastrop case, you then have to zoom out to see a larger area). Houses for sale are shown in red on zillow. You might want to compare these locations to Wickliffe, KY or Catawba, SC where there are mills in these grades still running. In general, I have found zillow to be a good, general, high level assessment of the conditions in any given mill.

The worse thing you can do is be in denial. You may make a wrong decision, but a wrong decision, in the long run, is probably better than ignoring these serious matters until it is too late.

Here are the previous columns I think you might want to refresh yourself with:

Personal Buy-Out Preparation 2 Jul 07

Failure is an Option 25 Feb 08

and a recent one,

Pragmatic Reality 23 Feb 09.

My biggest concern, however, is that you will let the traumas of the day cause you to take your mind off safety. Safe practices, including safe driving, are most important at times like these.

Be safe and we will talk next week.