[Adv.] OpTest's OpTiSurf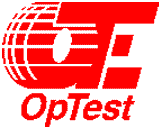 We have been talking about OpTest's "OpTiSurf" for some time now, for we think it is the a "signature instrument" representing all the good innovations by the fine folks at OpTest. OpTest's "OpTiSurf" is indeed a new way to measure surface roughness. According to OpTest, "The OpTiSurf revolutionizes the measurement of surface roughness of paper. Using advanced optics and algorithims, it quickly quantifies the optical roughness of entire sheets. OpTiSurf correlates with traditional air leak tests but has greater precision and speed, with less maintenance." And I would emphasize that no air is required.

I suggest you look at it today--just click on "More" below. And when you talk to OpTest, please say hello for us here at Nip Impressions.

Regards,

Jim
Answer to last week's riddle: Robert Peeler -- the terms are "Peelers" and the more familiar "bobbies"

The riddle last week asked: "What UK home secretary's name was responsible for 2 slang terms for British peace officers?"

This week's riddle: Remove one letter from the phrase "The All Thing," combine the remaining letters into two words (without switching any order) and come up with an institution of political/historic importance.
More...
---
 Related Articles:
---