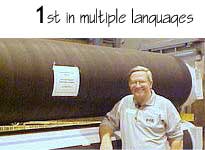 Week of 2 Mar 2009

Click here, then click "Trans lator" in top navigation bar for other languages.


Fifteen years ago, one of my esteemed, larger and older competitors in paper industry consulting and prognostication was predicting a newly awakened China would need a vast investment in newsprint production to sate the population's desire for news. I squeaked from my corner of the room that they would never do this--the Internet would enable China to skip over the newsprint phase. You be the judge on the outcome of that one.

I feel like a broken record, but I am compelled to state the Internet's reach still is not understood at the highest levels of governments worldwide. Here in the US, for instance, our President just signed a massive stimulus bill. Politics aside as well as criticism of those portions that might normally be considered "pork," there are vast sections of this bill that focus on moving people about and education in a classroom setting. The writers of this legislation missed the reality that people no longer need to move about to feel connected at school, work, play or for many other reasons. We may already have all the transportation infrastructure, at least in the United States and some other developed countries, to support populations much larger than we have at the moment (some of it does need repair). We may have an automobile market here that is only 10-12 million units a year for the foreseeable future. This automobile market may use much less fuel per vehicle than has been the norm in the past.

Laura and I have been out house shopping recently. Our pondering a decision to move and our house-hunting criteria says much about what I think is going on. The thought of moving is the realization that we don't need to be where we are. There is nothing in this community that keeps us here. Our kids range in ages from grown and on their own to a freshman in college. We do not commute to work, which allows us to move but leads to another criterion--we have to have a house that, besides all the normal functions, has two rooms that can be dedicated to offices, one for each of us. We also require (not want) high-speed Internet access. I want a four car garage, not for transportation, but for my collection of motive junk I call a hobby.

Financial pundits say the next shoe to drop in real estate will be commercial real estate. Personally, I think this sector will be more difficult to fix than housing. The reason I say this is that companies with professional office staff are realizing they can hire excellent talent unrestrained by location. They do not have to pay to move them and they do not have to pay to house them on the premises. Laura is an excellent example of this--her employer's home office is 665 miles from our home.

How are people communicating and feeling a sense of community? Look at Facebook--it has grown to 175 million users in less than 5 years. According to Fortune Magazine, these users spend 3 BILLION MINUTES PER DAY (5,708 Years per day) talking to each other. They have grown up doing this--this is their sense of community and they are very comfortable with it.

There are other ways to have a sense of community, too. On one of my computer screens, 24/7, I see (when I don't have them covered up with something else) from cameras refreshing every few minutes: the Panama Canal (Pacific end); the Intersection of I-70 and I-75 just north of Dayton, Ohio; the Thames River in London, near Parliament; the Mall in Washington, DC; the harbor in Helsinki, Finland; the intersection of I-285 and I-85 (known as "Spaghetti Junction") in suburban Atlanta, a view from a geostationary satellite approximately over Quito, Ecuador; and the view from the bridge of the cruise ship, Coral Princess. My community is the world.

Physical office buildings, transportation infrastructure, transportation vehicles and energy for transportation and office building operations are going to decrease drastically in the years just ahead. I know I have said all of this before, but it seems like no one is listening, so I am saying it again. We are in a societal upheaval that rivals the invention of the automobile and the skyscraper. The difference is we are watching these two icons of the 20th century rapidly diminish in importance and per capita costs.

I am surprised that the politically correct crowd has not grasp the benefits of less transportation (less fuel, less pollution, less transportation infrastructure and less highway accidents) and made this into a mantra like recycling. When they do, the emotional forces such concepts engender will drive these matters to a very quick implementation. Simply, an automobile that doesn't exist was not made with natural resources, does not use fuel, does not pollute, does not injure people (reducing the health care burden) and does not need highways. This is way beyond carpooling. It is stark, it is simple, and the Internet makes this possible. Stated other ways: (a) Manhattan and inside the loop in Chicago, to pick two of many North American examples, are irrelevant and will soon not be worth their costs and (b) GM and Chrysler (and possibly other auto manufacturers) are already too late, they lost their competitive edge to the Internet and probably can never get it back. They are no longer competing with other auto manufacturers any more than fine paper manufacturers are competing with each other--in the case of both autos and paper the competition (Internet) is much bigger and has advantages they cannot touch.

There are also other societal impacts of great importance wrought by this change. Essentially, the people with the lowest paying jobs (store clerks, restaurant workers, warehouse workers and so forth) are going to be the ones required to commute to work. Essentially the ones with the lowest paying jobs will have the burden of the highest commuting costs. What this means to society is anyone's guess.

For us, though, what will all of this mean for the pulp and paper industry? We already know that the Internet is beating us at any communications function formerly dominated by paper. On the balance, home delivery via courier service, I predict, will hold its own--delivery of documents will go down, but delivery of the latest cell phone or music appliances will go up. This will keep packaging at least steady if not growing in the delivery segment (but see below). Houses, when they rebound, will become slightly larger in order to accommodate specifically designed home offices (good for certain sectors of our business), while we may not need many new office buildings or school buildings for a long time (bad for architects, builders and building component manufacturers). The need for new hotels and motels may fall significantly. If transportation needs drastically fall, even on a per capita basis, the economics for transportation fuels will become even more challenging, hence putting off the viability of cellulosic ethanol to sometime in the future. Surprisingly, home offices may be a bit more wasteful of copy (uncoated free sheet) than when it was regulated by cost code controls on copy machines and printers in the office--a positive for this sector. Similarly, higher end tissue (home workers still have bodily functions) should increase in volume to the detriment of the away-from-home (C&I) market which will decline if office buildings go out of fashion.

Unrelated to our industry, except perhaps in the nature of packages required by the package delivery business, I think personal unmanned aircraft are on the horizon for delivery services. Whether your own, stationed at your home and sent regularly to fetch your mail or parcels from a regional sorting point, or, if your rooftop so equipped, sent out by stores to deliver packages to you, expect these soon. The large courier companies will probably enter this arena first as a cost savings (eliminates local trucks and drivers) and defensive competitive move. This is not the old idea of commuting by aircraft; this involves much smaller craft with payloads of less than twenty pounds (9 kg). All of the technology exists, is currently in widespread use and the prices are approaching a level that will make this attractive for consumers. The Internet (and GPS) are the links that control it all, something the old Jetson cartoon missed: it is too expensive move people (they weigh too much, they are too fragile) in the Internet Age, just move the things, goods, that have to be moved.

And all of this is made possible by the Internet.

All of my life I have heard, at any given time, "we are in rapidly changing times." I would have to say that the current rate of change we are facing makes my past 58 years of experience look like a leisurely stroll in the park. The changes on the immediate horizon are stupendous.

Fortunately, we can be steady about our focus on safety, in fact it is usually a big hurry that causes accidents. Slow down, assess your immediate surroundings, and act in a safe manner.

Be safe and we will talk next week.